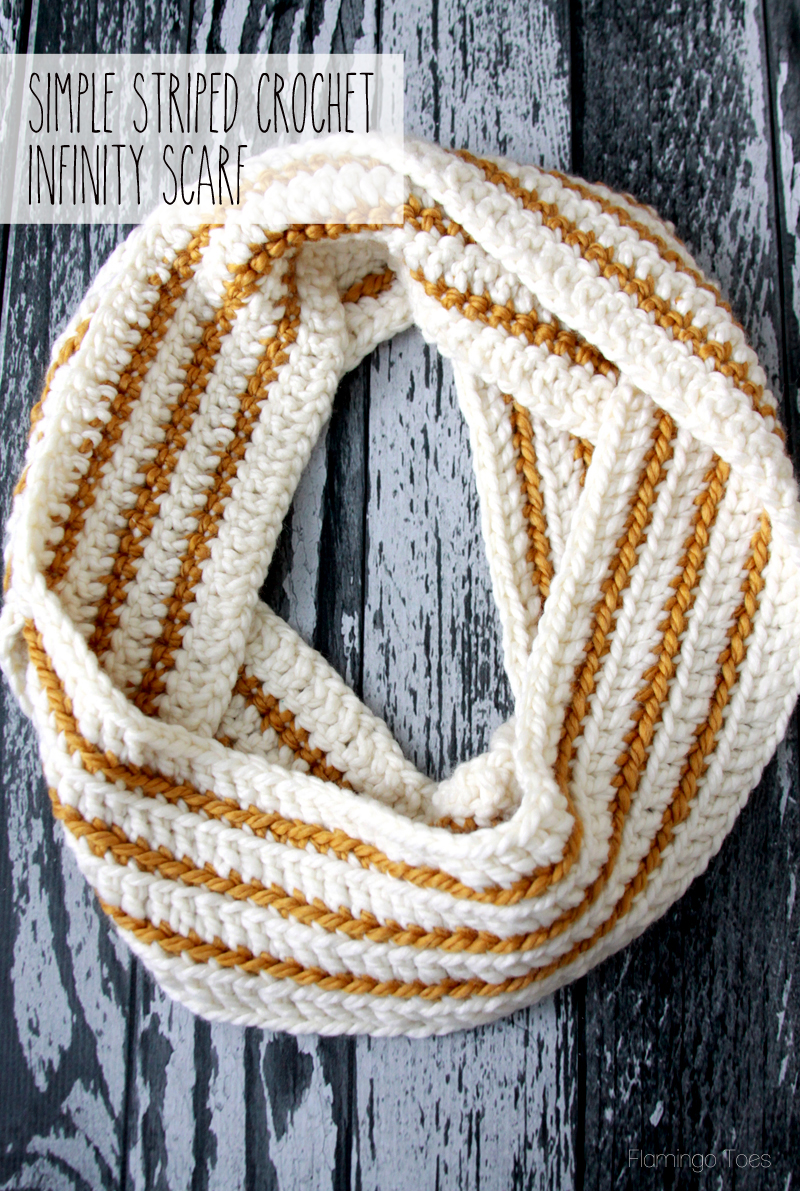 I have been getting more and more addicted to crochet projects!! I think they are so perfect for working on in the evenings – I just can't seem to sit and watch a movie without actually doing something. And since it's so chilly out right now, it makes perfect sense to work on cozy projects that will keep me warm while I work on them!!
Today I have a fun new Cozy Striped Crochet Infinity Scarf to share with you – and a bonus!! I'm joining in with some amazing ladies for #ProjectCrochet – and at the end of the post I have links for all sorts of cute projects for you! Yay!
Before we get to that though – let me show off my new favorite scarf.
I've been wanting to make up a striped scarf for a while and when I found this yummy cream and gold yarn I knew that was it!! This will go with so many of my winter outfits.
The pattern is crazy simple – just a simple pattern of single and double crochets, but I've worked the rows in the back loops to give them a little ridged edge. I think it adds a little something don't you?
Here's the pattern for you!
Keep in mind – I crochet tightly. Usually I have to go up at least one hook size for most patterns, so rather than give you a chain count I'm going to do this by measurements. That way you can do what works best for you! :)
Cozy Striped Crochet Infinity Scarf Pattern
2 skeins chunky cream yarn
1 skein chunky gold yarn
Size N Hook
Begin with your cream yarn. Chain enough to measure 72″.  Make sure your chain is not twisted and connect the last chain with the first with a slip stitch.
Row 1: Chain 3, dc (double crochet) in each chain around until you reach the original chain 3. Slipstitch in top chain to connect the row. Change to gold yarn.
Row 2: Chain 2. sc blo (single crochet, back loops only) all the way around the loop. Here's a good video if you haven't done that before: http://www.youtube.com/watch?v=phf7Nj0_LJg. Connect to the chain 2 with a slip stitch. Change to your cream yarn.
Row 3: Chain 3, dc blo (double crochet, back loops only) all the way around. Connect to the chain 3 with a slip stitch.
Rows 4 – 7: Repeat rows 2 and 3, alternating colors. Finish off after row seven and weave in ends.
Wear your cute cozy scarf with style!! :)
Now onto the Project Crochet fun!!
Visit all the links for the free patterns – aren't they all so cute?!
Crochet X Pillow Pattern | Persia Lou
Learn To Crochet eBook | Twin Dragonfly Designs
Crochet On Edge Fleece Blanket Tutorial | the Friendly Red Fox
Crochet Chained Earwarmer | Rescued Paw
Fabulous Free Crochet Patterns | Seven Thirty Three
Cozy Striped Crochet Infinity Scarf | Flamingo Toes
Project Crochet Recap | Sugar Bee Crafts
Crochet Pillow Cover | Seven Alive