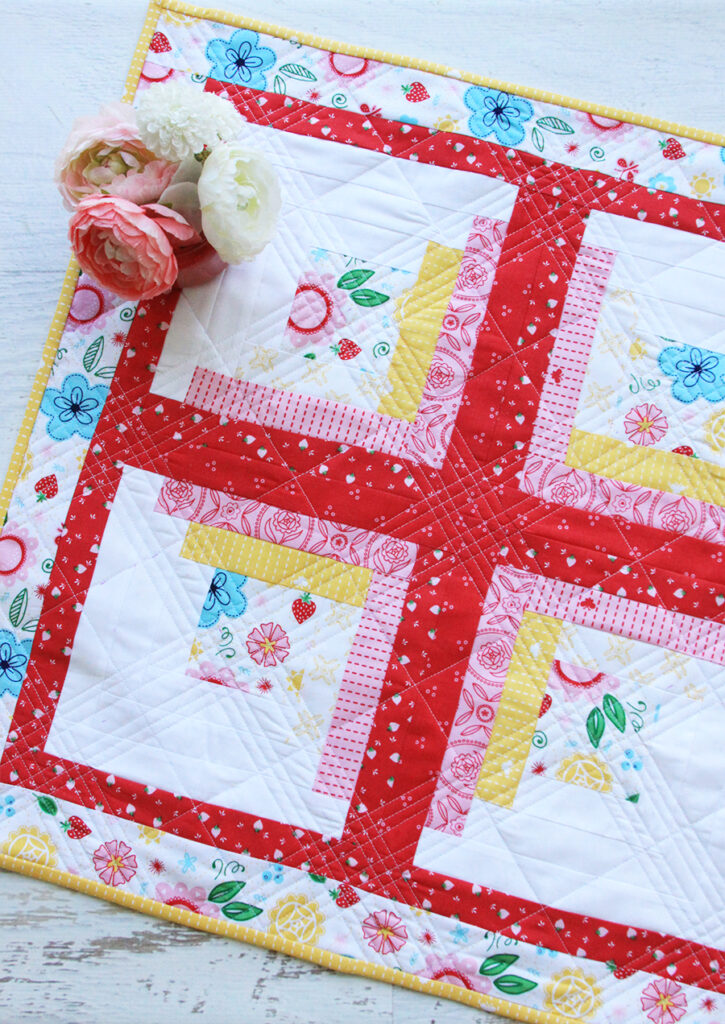 I have a fun new fabric collection to tell you about – and a cute new mini quilt to show it off!
This new collection is called Flutter and Shine and it's by the super talented Melanie Colette of Hello Melly Designs. It's her first collection with Riley Blake and it's soooo darling!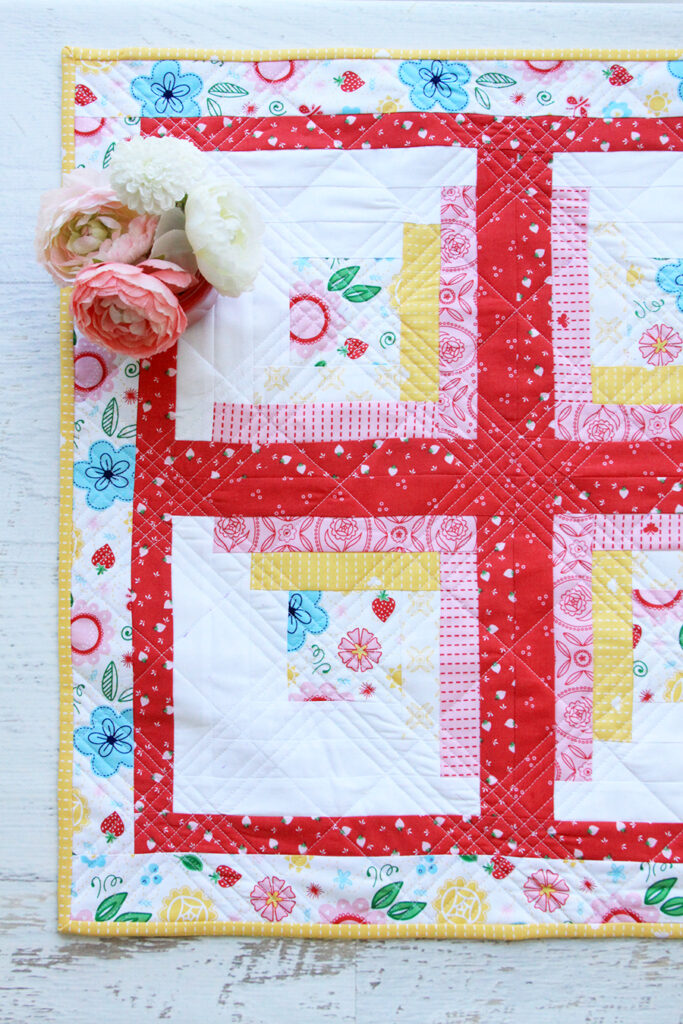 There are the sweetest florals and pretty prints in pinks, aqua and yellows. I chose the pinks and yellows to make my mini quilt with – I just love the colors together! It reminds me of a Strawberry Lemonade – so summery and fun!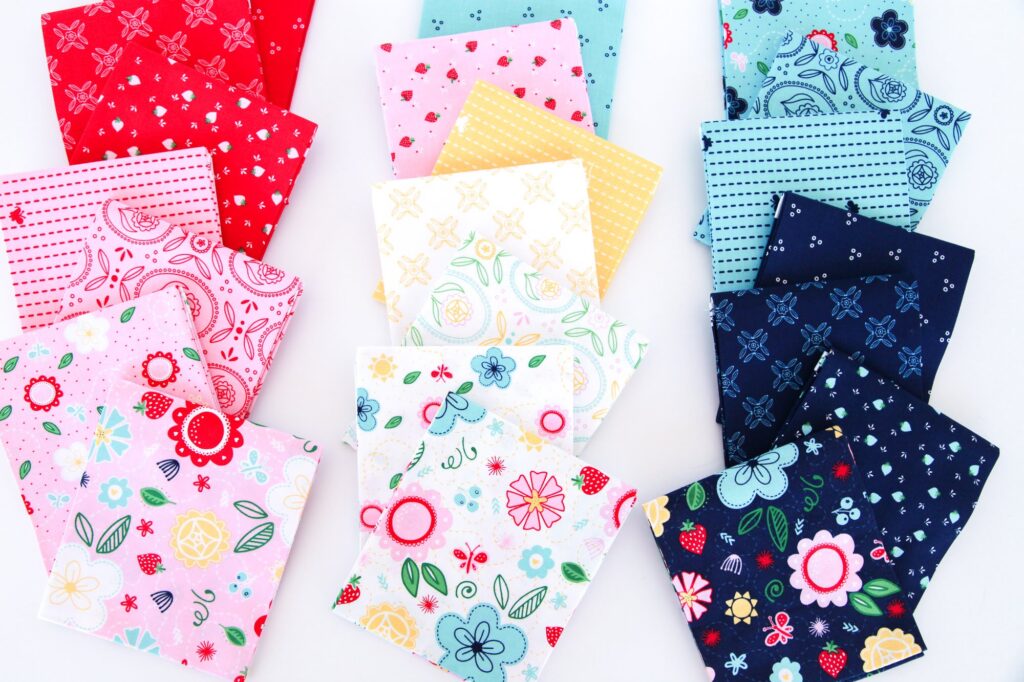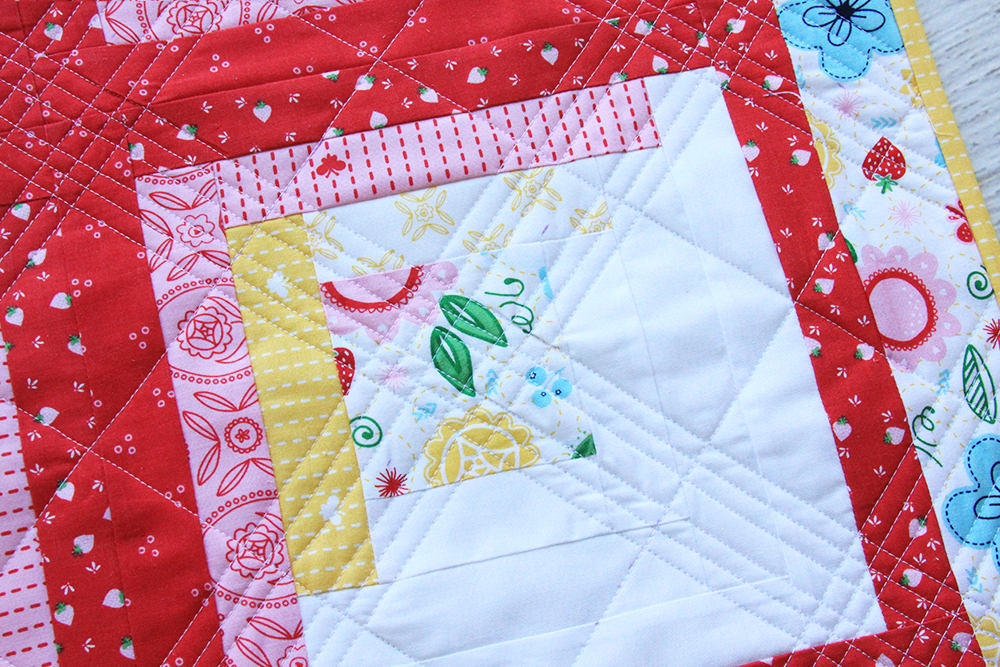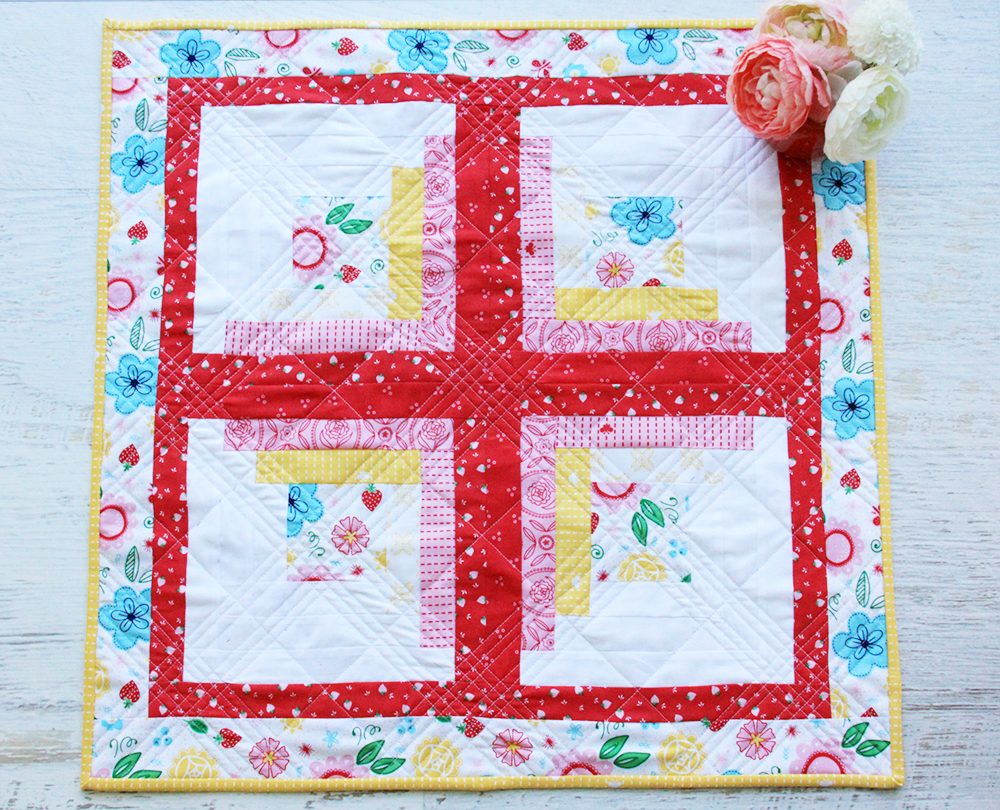 I made up a fun little ombre log cabin mini quilt! It was so fun to make and I love how bright and cheery it is! Here's a quick tutorial so you can make your own!
Finished Mini Quilt Size: 24″ x 24″
Materials:
Flutter and Shine fabrics – 7 prints in assorted pinks, yellows and florals – fat quarter or 1/4 yard of each
Riley Blake White for background fabric – 1/4 yard
26″ square of batting
Backing fabric – 3/4 yard – I used Riley Blake Gingham in Aqua
Binding fabric – 1/4 yard
Aurifil 50wt thread for piecing and quilting
Instructions: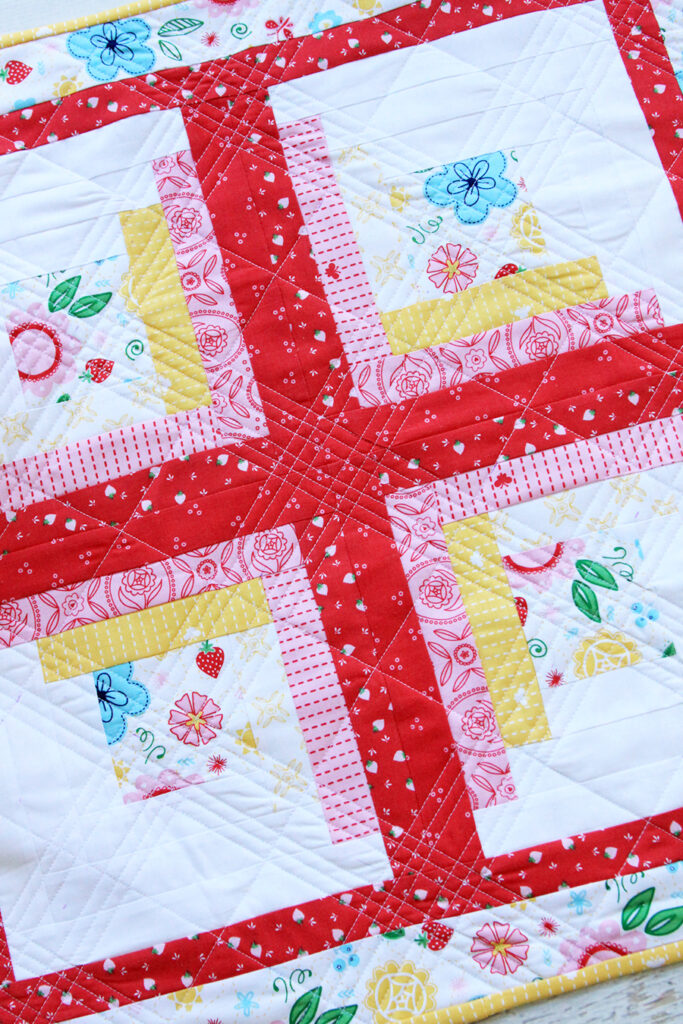 I used the Log Cabin instructions from All People Quilt to create the log cabin blocks – they are 9 1/2″ x 9 1/2″ unfinished. Create four blocks that are the same.
Sew together the four blocks as shown in the photos, with the darkest fabrics all in the center.
For the inner border, cut 2 strips 1 1/2″ x WOF and then sub cut these into four strips. Sew two on the sides and trim the excess, then sew the remaining two strips on the top and bottom.
For the outer border, cut 3 strips 2 1/4″ x WOF. Sew two strips to the sides and trim, then sew 2 strips to the top and bottom.
Layer together the top, batting and backing and quilt as desired. I did some fun diagonal lines!
Bind as desired. I cut my strips 2 1/4″ x WOF – I like to make my mini quilt binding a little smaller.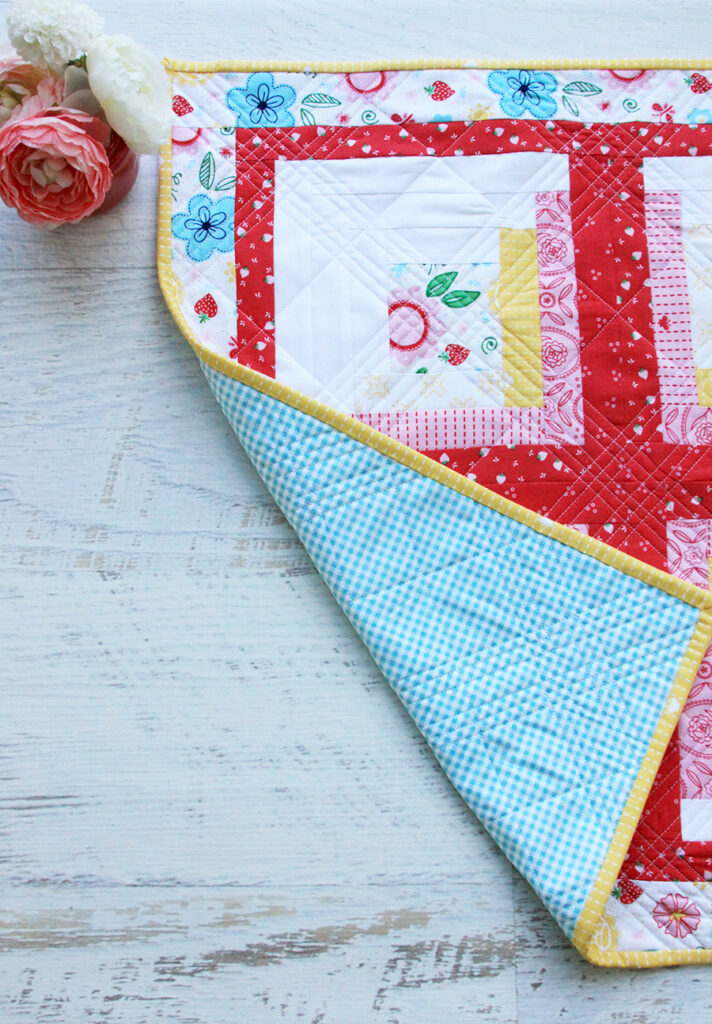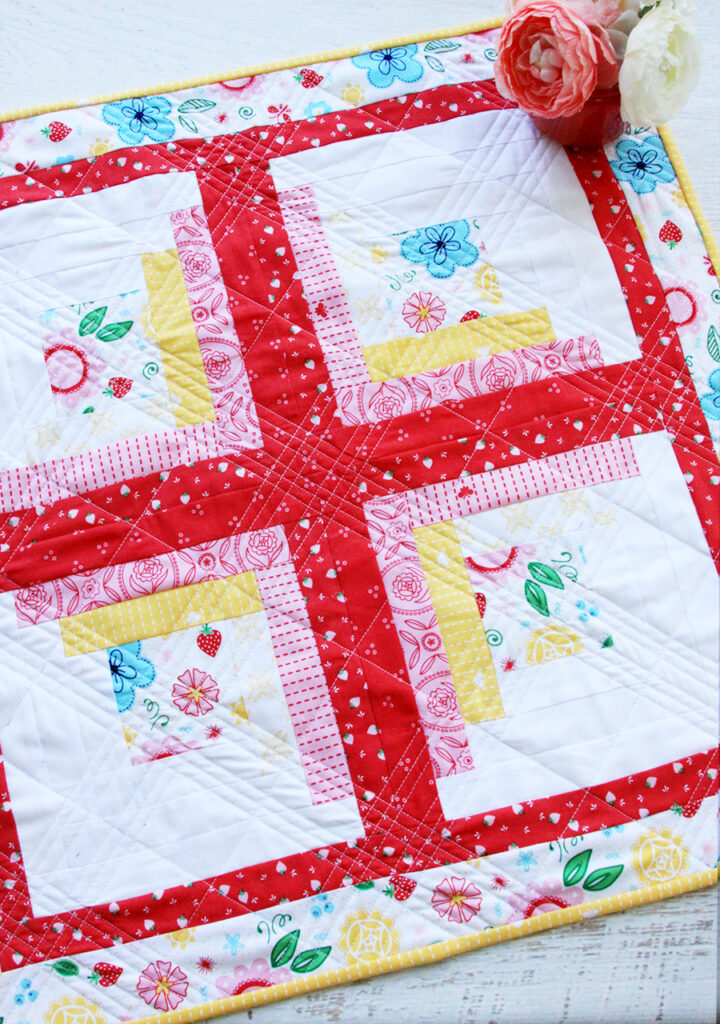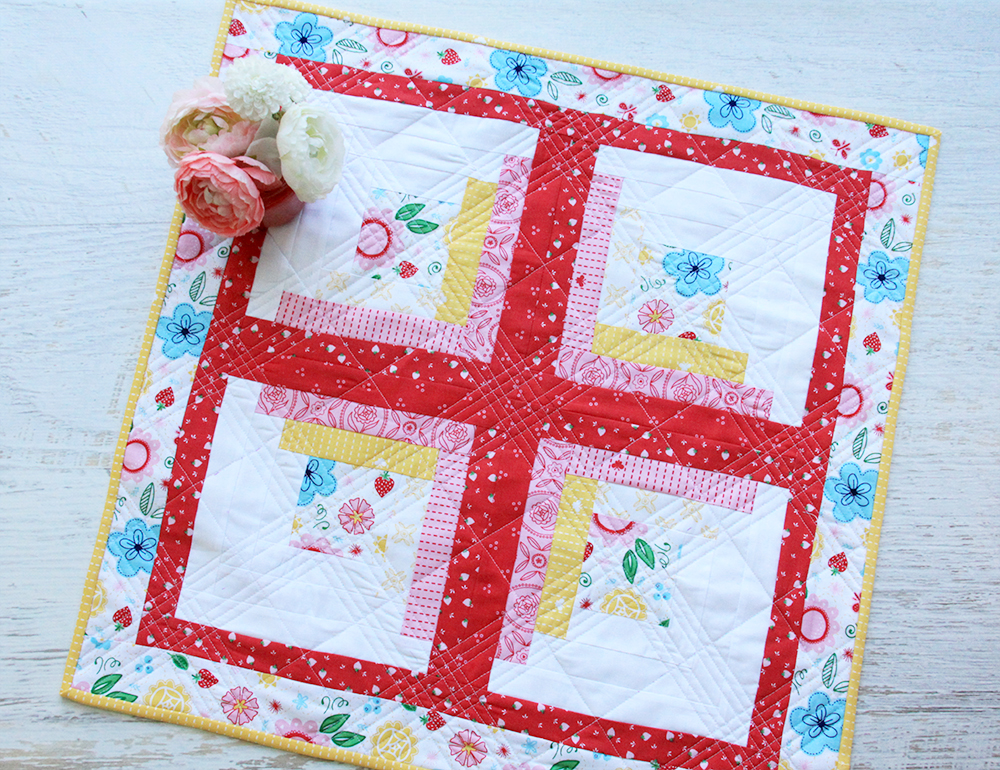 I think you'll love this new collection!! Flutter and Shine is shipping this month (August) so check with your favorite quilt shops to see when it will be in!