With these warmer temps we're finally having, I am dying to get out and visit some of our local parks and lakes! We have so many fun places around here in East Tennessee – there is always some place new to explore!
I've been wanting to create a blanket we can keep in the car for impromptu picnics – something that we can easily roll up but that is easy to keep clean too! I'm so excited with how this 15 Minute Summer Picnic Blanket turned out!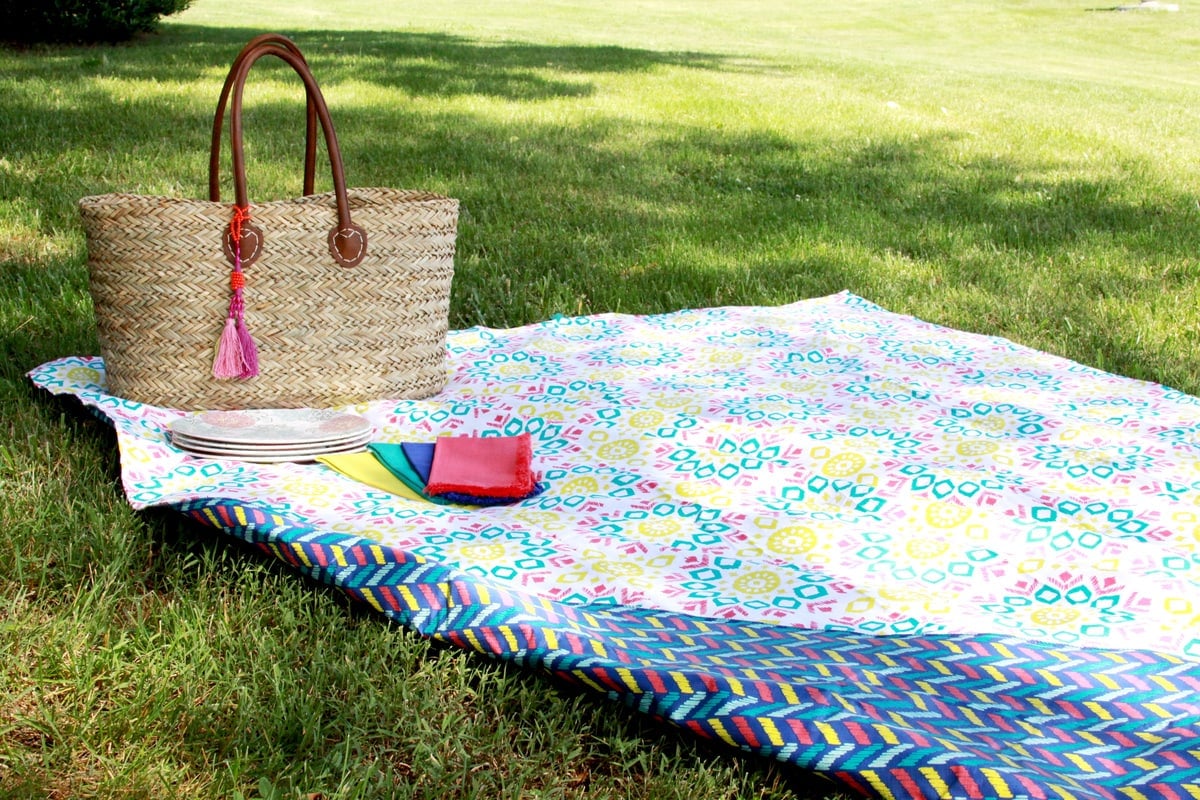 This is seriously so easy! It's made with two tablecloths – one that is a fun cotton in a summery print, and the other is a waterproof tablecloth that will keep everything nice and dry! I found both of mine at Target but you can find similar tablecloths in almost anywhere.
The blanket has two twill ribbon straps so it can be rolled up and tied and it will stay nice and tidy – and it's easy to carry too!
Here's what you need to make your own 15 Minute DIY Picnic Blanket:
1 cotton tablecloth – mine is 48 x 60
1 vinyl or waterproof tablecloth – the same size as the cotton tablecloth
3 yards of twill ribbon
thread to match your tablecloth
Begin by cutting your twill ribbon in half. You'll have two pieces that are 1 1/2 yards each. Fold each piece of twill in half.
Lay the vinyl tablecloth wrong side up and lay the cotton tablecloth right side up on top of it, lining up all the edges. On one short side of the tablecloths, measure 24″ from each end and tuck the folded edge of the twill ribbon between the two cloths.
Pin the two cloths together so they don't shift as you sew.
Sew around all four sides of the cloths, backstitching over the two places where the twill ribbon is.
And that is all there is to it! Soooo easy and fun right?
To fold it up, I just folded each long edge towards the center, then rolled it up from the bottom. Kind of like you would a sleeping bag. Super quick.
Now you can head out for a picnic or day at the park!
I'd love to see any photos if you make up a picnic blanket of your own!
You might like these fun summery projects too: