I have such a fun announcement today! Marissa from Rae Gun Ramblings and I are starting back up our Sew our Stash series!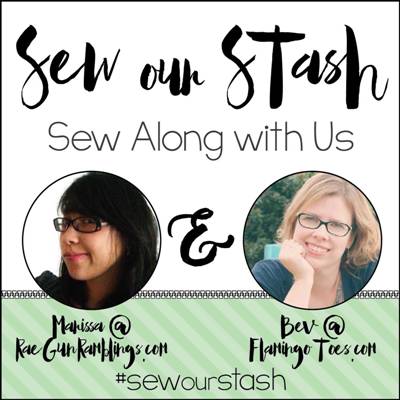 If you're new to Sew Our Stash, Marissa and I came up with the idea to really challenge ourselves to sew more apparel – and to use up fabrics in our stash! (Though sometimes I cheat on that part a bit. :) I mean technically, once I buy a fabric, it's in my stash right??)
We had to take a little break last year but now we're back and all fired up! We've made the series even more fun for all of us too – we have a schedule of themes we'll be sewing each month!
We figure these will give lots of room for interpretation, but also make it super easy to help decide what to sew. Win win right?
So first up is easy tops to sew! Now that it's warming up, we all need new t-shirts, blouses, and cute tanks to freshen up our wardrobes for summer! So here's our challenge – sew along with us!! At the end of the month we'll both be sharing what we have made and we'd love to see what you make too! You can do just one top or a bunch!
To help out Marissa and I have each rounded up a bunch of cute tops for inspiration! Here's what I came up with:
15 Easy Tops to Sew
Now because these are free patterns, some of them are a little more work, and some only come in one size so you might have to do some adjusting to the pattern. But there is a bunch of inspiration here!
Cute Sorbetto Top Remixes (with links to several other versions of this free tank pattern)
Loose Top (you'll need to translate this one but it looks super easy!)
These easy tops to sew are super cute right??
Marissa has rounded up more top inspiration for you, so head over to Rae Gun Ramblings now and see her tops too!