This US Map Quilt is perfect to take along on a road trip! It's covered with a fun map of the US – all appliqued in scrappy, colorful prints. You could even add a little line of embroidery to remember your trip by, or decorate the map with little hearts for places you've visited! I can't wait to see your version of this US Map Quilt Tutorial!
We just love going on road trips – it's so much fun – we feel like the drive is part of the adventure! My only drawback with them is that my husband likes to keep the air in the car on freezing. Like, we're talking Arctic cold. So I'm always wrapped up in a throw of some sort – even if we're traveling across the desert. He's happy, I'm happy.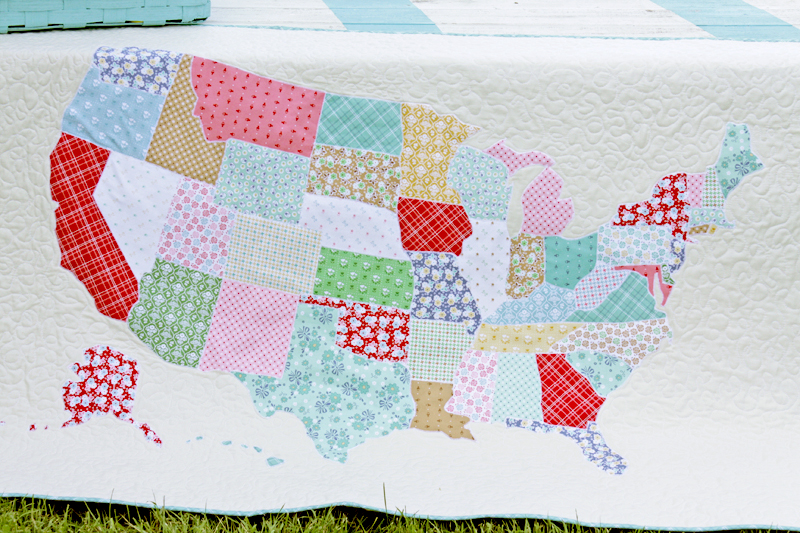 This US map quilt would be a fun gift for someone who loves to travel too!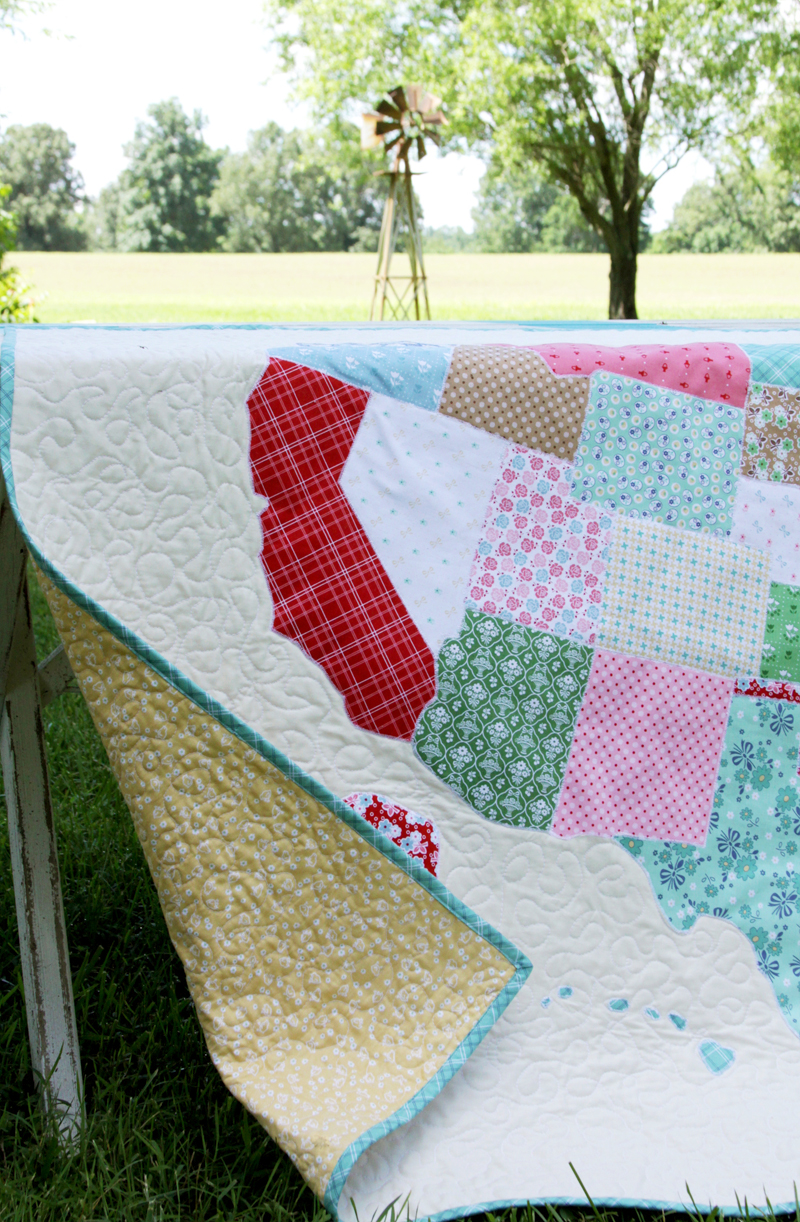 US Map Quilt Tutorial
Here's what you'll need to sew your US State Map Quilt:
(This post contains affiliate links) ;)
Click here for the Pattern for the US MAP Quilt: Printable US Map
NEW: Lauren from Irish Acorn Quilts has generously donated her time and made a FREE Canada version of the map that connects to the US Map!! You will need to increase your background, batting, and backing fabrics if you do this.
US Map Quilt Instructions:
Materials Needed:
Begin by printing out your US map. You'll be making a grid of paper that is 7 across and 4 down. The states will overlap just a bit, trim off the white portion along the edges and tape the map together.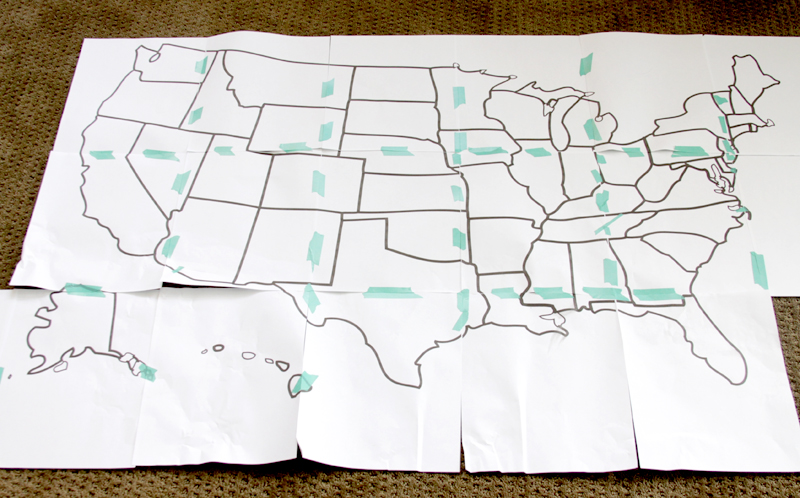 Don't let your dog and cat into the sewing room – you might just have to retape the bottom of the US.  Especially if said dog and cat decide to play a game of tag , then think you're playing too when you try to stop them, so they run around like crazies all over the entire US. Not that I'm speaking from experience or anything.
Cut apart the states. I cut down the center of the thick black line, but you can do it any way you'd like. Begin cutting out your states. To do this, I recommend cutting a piece of fusible webbing a little larger than the state you're cutting out. Cut out a fabric piece as well. Fuse the webbing to the back of the fabric.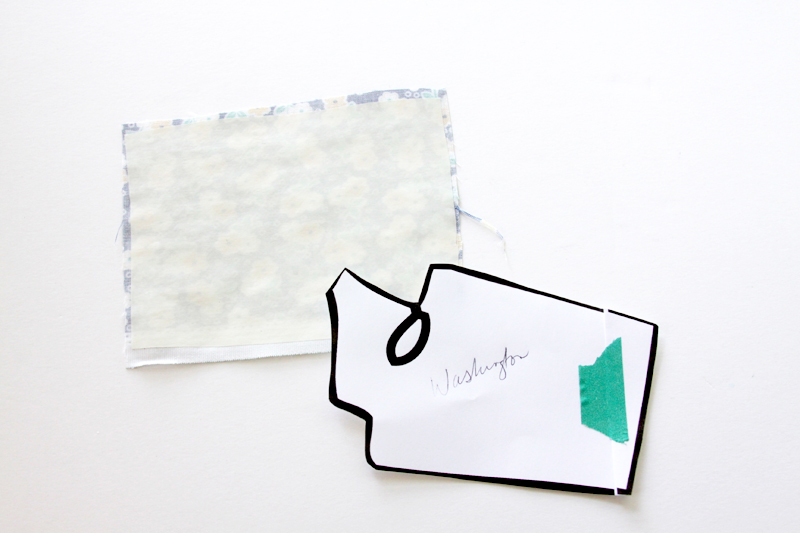 Cut out your state, making sure that the wrong side of the pattern faces the right side of the fabric so that the state is the correct orientation.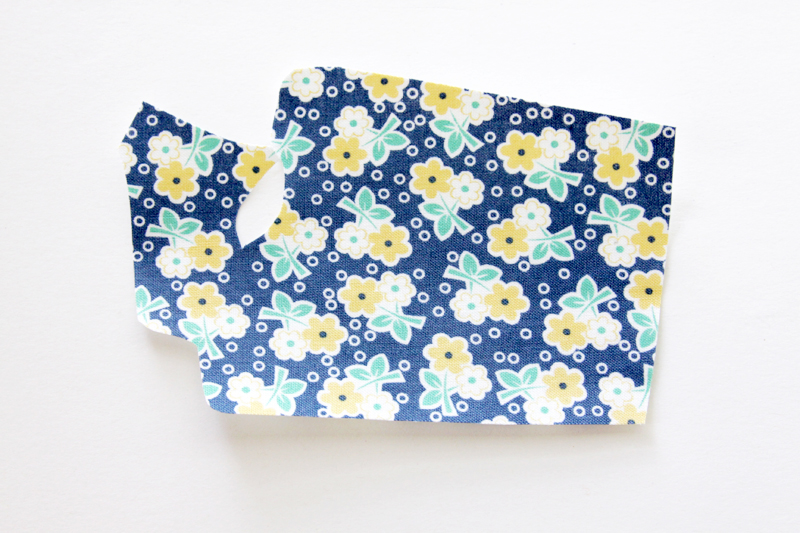 Continue cutting out your states, varying your fabrics as you go, for a cute scrappy look. Leave Alaska and Hawaii as one piece on the paper until you have your fabric fused. That way you can keep track of your little islands more easily.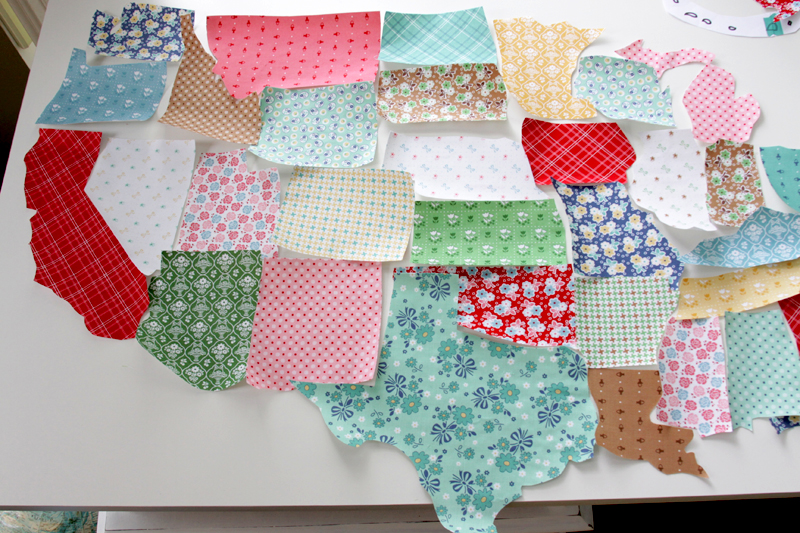 Because I have geological issues (I have no idea what state goes where) – I taped back my paper map as I cut out each state. This worked great as a pattern to reassembling the map.
Cut your top fabric to 60″ long. You'll leave the width at 45″ – so your top piece will be 45″ x 60″. Lay out your re-taped paper map, then lay your top fabric over the paper map, centering the fabric over the map. Place Alaska and Hawaii in the bottom left corner.
Begin removing the paper backing from the fusible webbing on the states and laying them over the top fabric, lining up all your edges as close as you can. It's ok if they overlap just a bit. Iron all the states in place. I did this on my kitchen island – it is granite and can take the heat.
Once your states are all fused down, you can start the applique! Using a medium zig zag stitch, sew between and around all the states.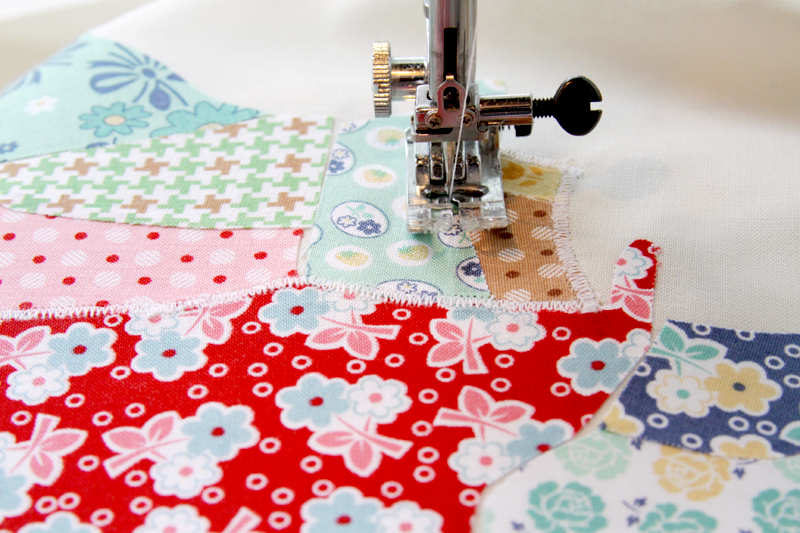 This will take a bit but I promise it will be worth it! It's so fun to see the states all sewed in place.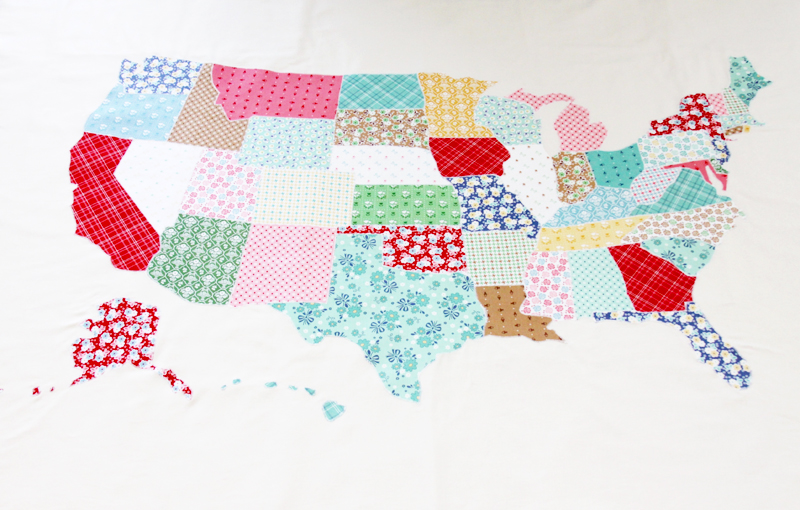 Make a sandwich by laying your backing fabric wrong side up, then your batting, then your top fabric, right side up. Smooth out all the wrinkles, then pin everything together.
Quilt everything together however you'd like. I outlined each state and the entire map with a straight stitch along the zig zag stitching, then filled in the rest of the area with a free motion quilting.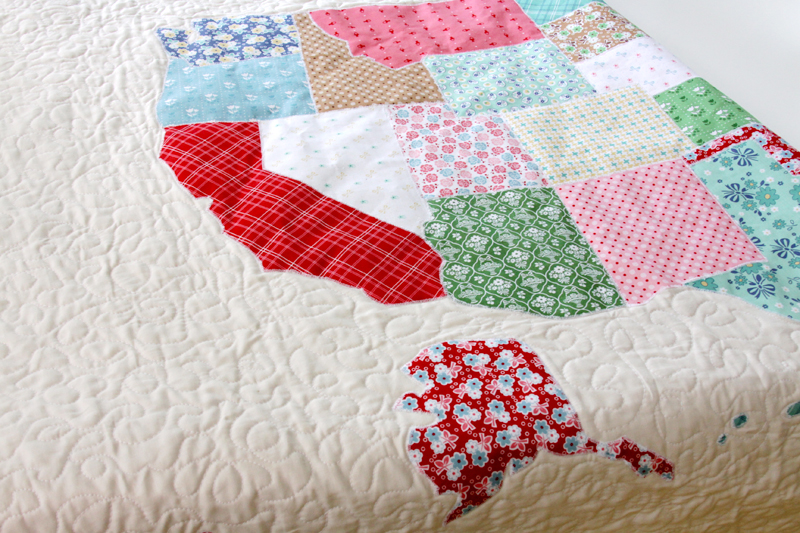 Now onto binding! Cut out 2 1/2″ strips of binding from the mint plaid fabric – you'll need 5. Sew the strips together, then press them in half.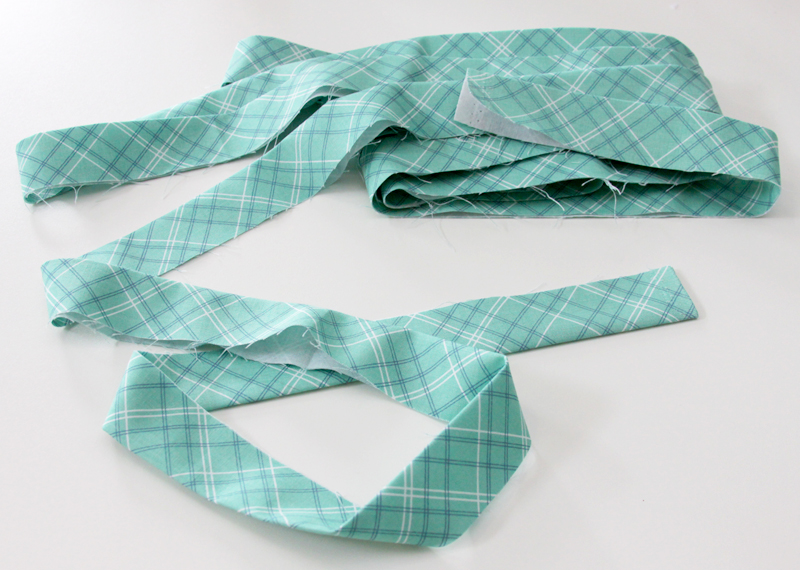 Bind your quilt in whatever method you normally use. I like to use this one.
Once your US map quilt is all done, you can pop it in the wash so it gets all soft and crinkly! That's my favorite part. :)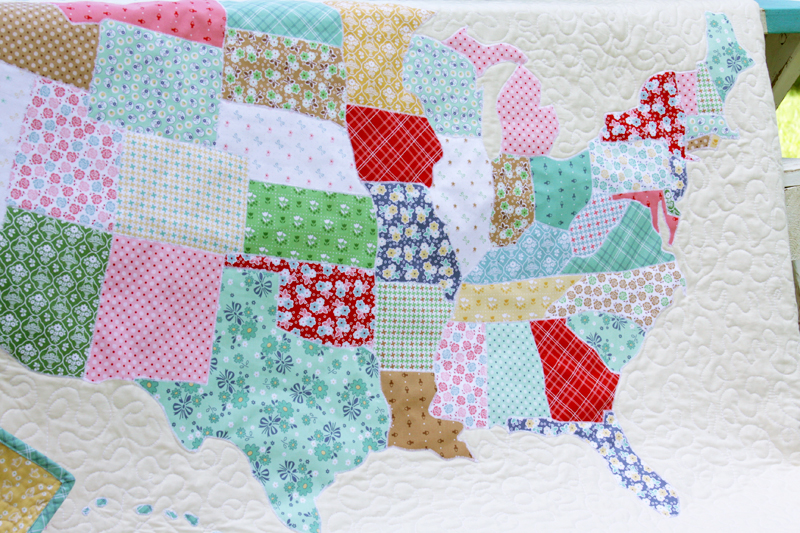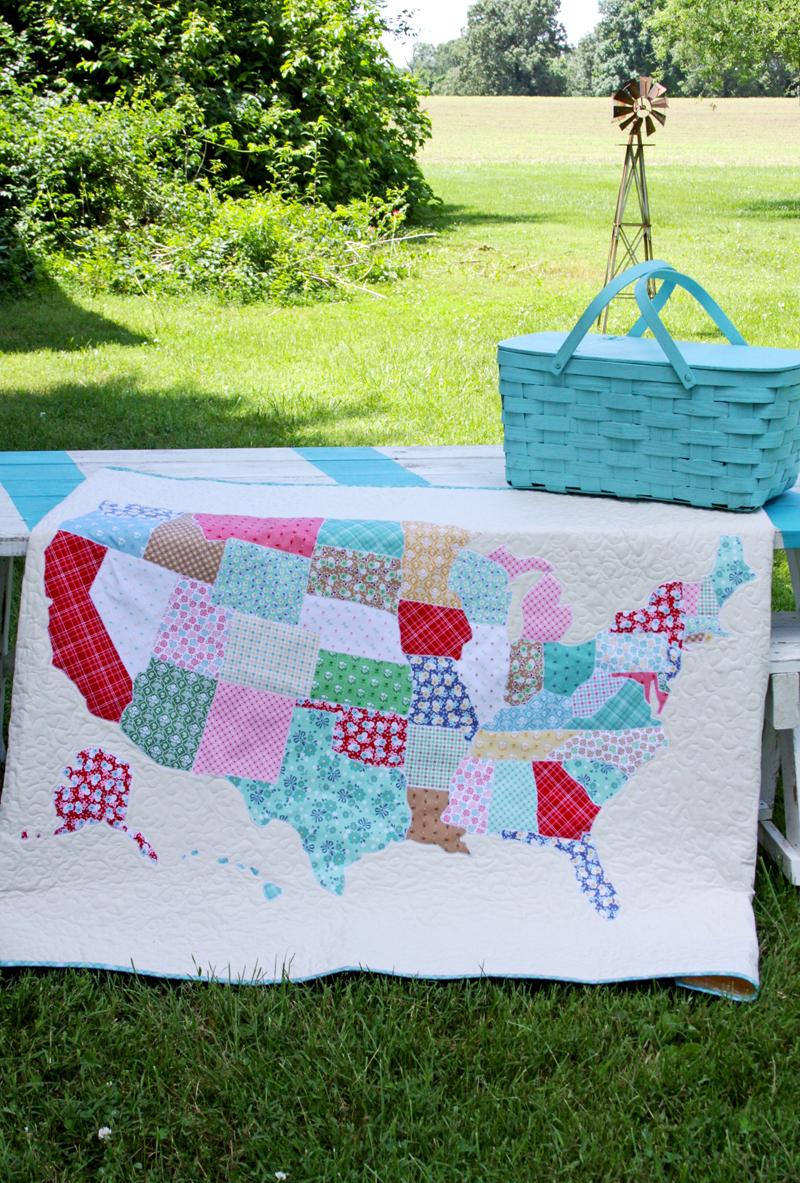 I hope you make a US map quilt up – they are so fun! You can really personalize it by adding embroidery – cute little hearts for places you've lived or even little trip lines a la Indiana Jones to remember a favorite road trip!
You might also want to try: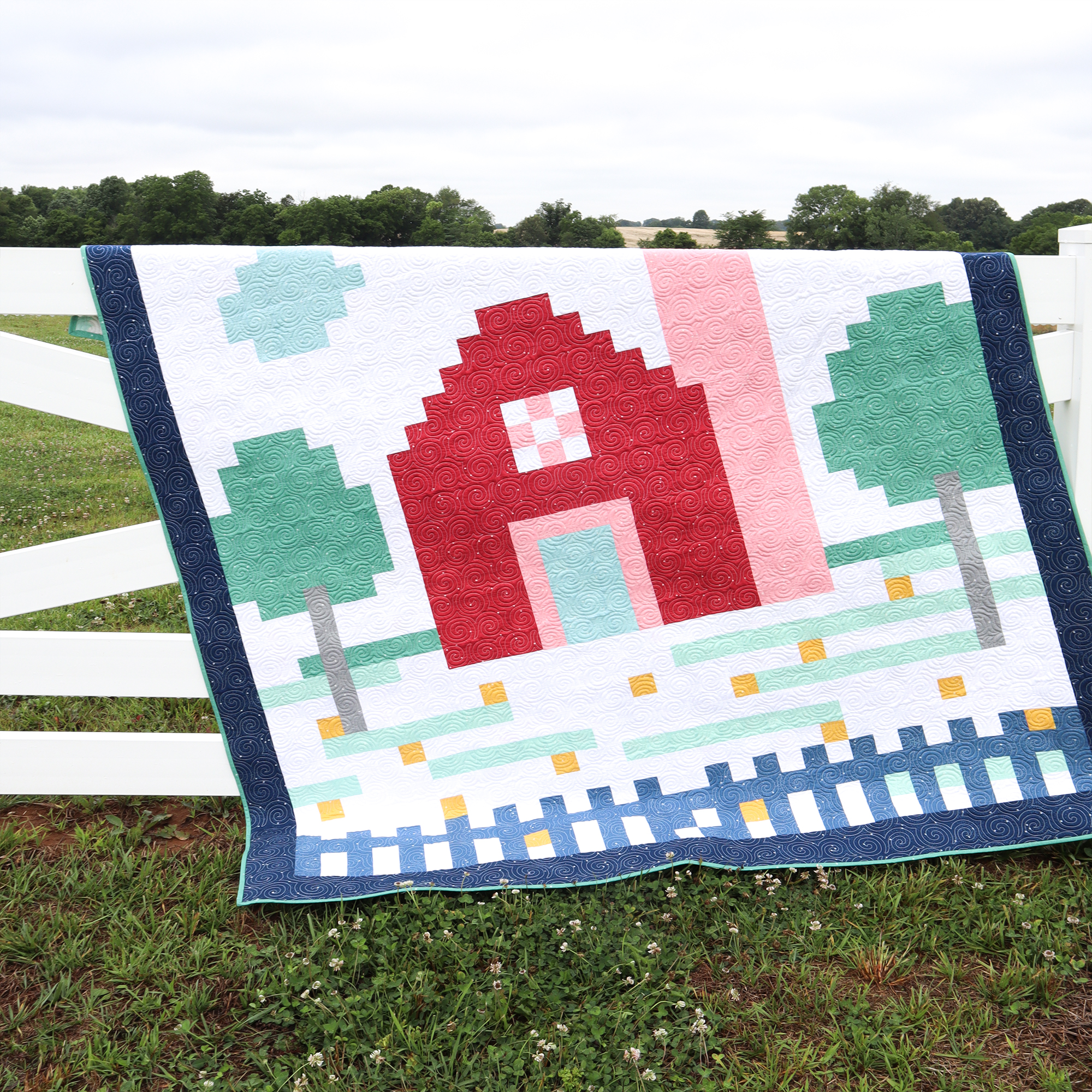 Starry Skies Free Quilt Pattern