I have had so much fun with this!
If you've visited Flamingo Toes before you probably know that I've got teenagers. So I don't get too many chances to sew adorable clothes for little ones.
When Lindsay from The Cottage Home asked me to be a part of the blog tour for her new patterns, I jumped at the chance!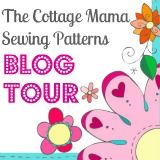 Let me just clue you in here – Lindsay's patterns are CRAZY cute! I chose to do the Charlotte Apron Dress and I loved it so much, I made two!!
The have the sweetest little aprons – and I had this super cute bicycle fabric, so I dressed them up with my Bicycle Embroidery Pattern!
I've been giving out little hints on Instagram this week of my embroidered bicycles – here is where they are!
How cute is this dress?? I loved it. It was super easy to read, really clear, and I loved that it was a paper pattern.
I also love all the options!!
This is the 4T – my littlest niece loves orange – so this pink and orange print with the little orange bicycles should be a big hit!
For hers, I included the ruffle on the apron and the cute center panel on the bodice.
Her sister is a couple of years older – so her dress is similar, but I left the ruffle off the apron. I love this gray and plum combination!
Both girls love to "twirl" and these are super full skirts. Perfect for twirling!
Here's a peek at the Charlotte Apron pattern –
It's sized 6 mos through 8 years and it has all the instructions and pattern pieces, plus options for the teapot applique, a yo-yo apron and the embellished bodice.
If you want to check out the other patterns and bloggers in the tour, click here! There are so many great versions of Lindsay's fabulous patterns!
You can find The Cottage Mama here:
Website: http://www.thecottagemama.com/
Blog: www.thecottagehome.blogspot.com
Facebook: www.facebook.com/thecottagemama
Twitter: www.twitter.com/thecottagemama
Pinterest: www.pinterest.com/thecottagemama
But you know what the coolest part is?
You can win a Cottage Mama pattern too!!
This is easy peasy, just head over to The Cottage Mama and leave a comment here telling us what your favorite pattern is!
This Giveaway is Now Closed. Thanks!