When we moved into our new house last fall, I had several projects on my list that I knew I wanted to do right way. Things that even though we couldn't make huge changes to the house, like paint every room or redo flooring, would still make the house feel like ours.
These little teacup pendant light shades were definitely high up on my list! I had seen them here or there and thought it was such a pretty look, and so perfect for the vintage-y kitchen I've got planned. I love how they turned out so much! These sit over my kitchen sink, so every time I look out my window I see these sweet little cups.
I was really surprised at how easy they were to do too!! I was super nervous about drilling the porcelain – in fact I bought extra cups because I was just sure we were going to end up with shards of teacups everywhere. But the whole process took just a little while – and no broken cups or plates!
I found little tiny edison bulbs too – because cute teacup shades need cute little light bulbs. :) When the light is on the whole cup glows and you can really see the pattern. It's so pretty!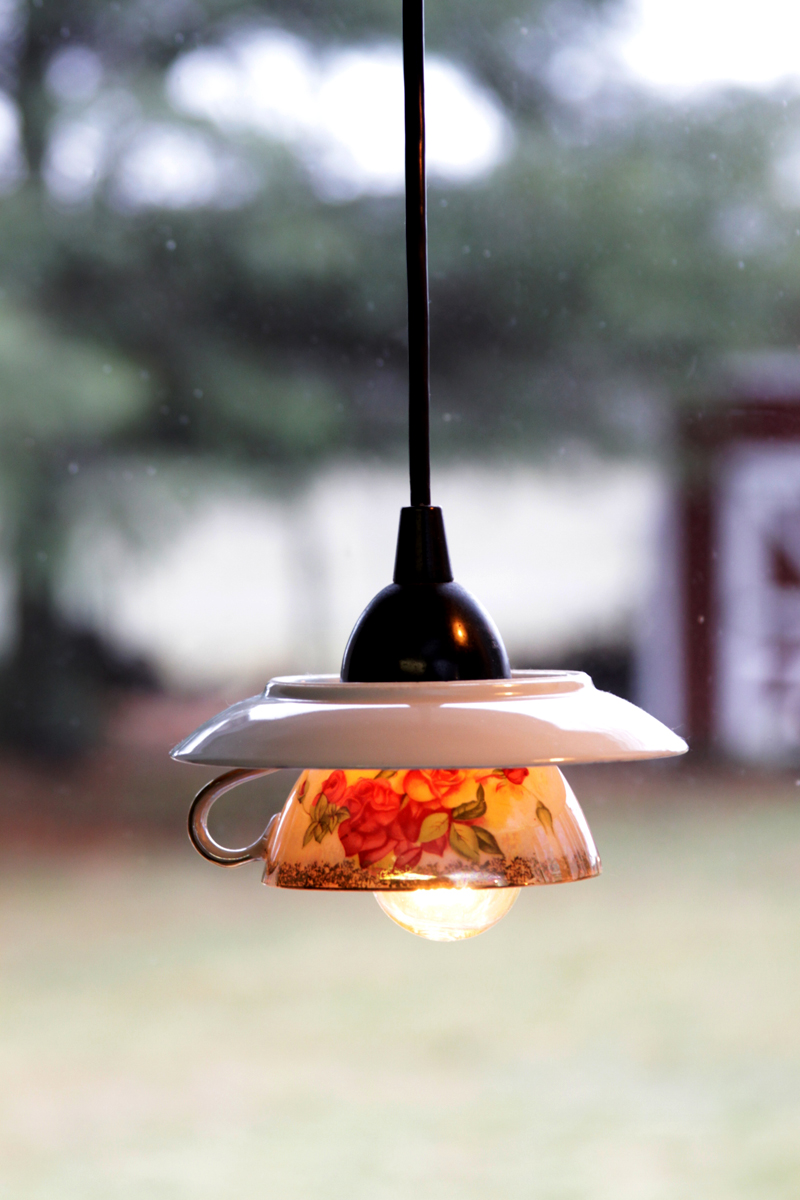 So let's get to the tutorial! I promise this isn't scary. Even though it takes power tools and safety googles.
I was super fortunate to already have a pendant light over the sink. I just removed the shades and changed them out for these. But if you don't have that, you'll need to get some sort of light kit and install it according to the directions, or have an electrician install it for you.
Once your kit is installed, you'll need to look at how the shades are fixed to the lights. On mine, the screw threads for the bulbs went through the base of the shade, so I knew that the holes in my cups had to be larger than that.
For cutting the holes, I used a diamond drill bit. I bought mine in a kit of several sizes from Amazon, because I needed them for another project as well. (affliate link)
Basically this bit cuts a hole in ceramics, porcelain, glass, tiles, etc. So cool right? You just need to keep it wet when drilling. (Click the link below to see them on Amazon)

I used a drill press for this, it made it super easy to hold everything steady, but you can use a hand drill as well. If you're using a hand drill, start the bit at a slight angle to get things going, then straighten the drill out as soon as the cup begins to be cut.
For the cup and saucer, we just added a bit of water in the base and that was enough to keep the bit wet.
Cut a hole in both your cup and saucer.
You can see how the little sleeves fit over the centers to hold the light bulbs.
For the light bulbs, I found these mini bulbs. (again, on Amazon, yay) I didn't want any bulbs that would be too close to the edges of the cups, I was afraid it would make the cups too hot if the bulbs took up too much space. So these were perfect!
That's all there is to it! So easy right?? I love how they turned out!
I'd love to know what you think!
You may also like
Sweet and Simple DIY Sleepy Kitten Planters
Must Have Craft Tips – Kitchen Repurposing Projects