I just adore decorating for the holidays – even if it's just a few little things here and there. It is so fun to add a little color and style to my decor, especially if it's a simple and quick project that I can make in an hour or so! That's just the case with this little Sweet Heart Stitched Valentine's Banner.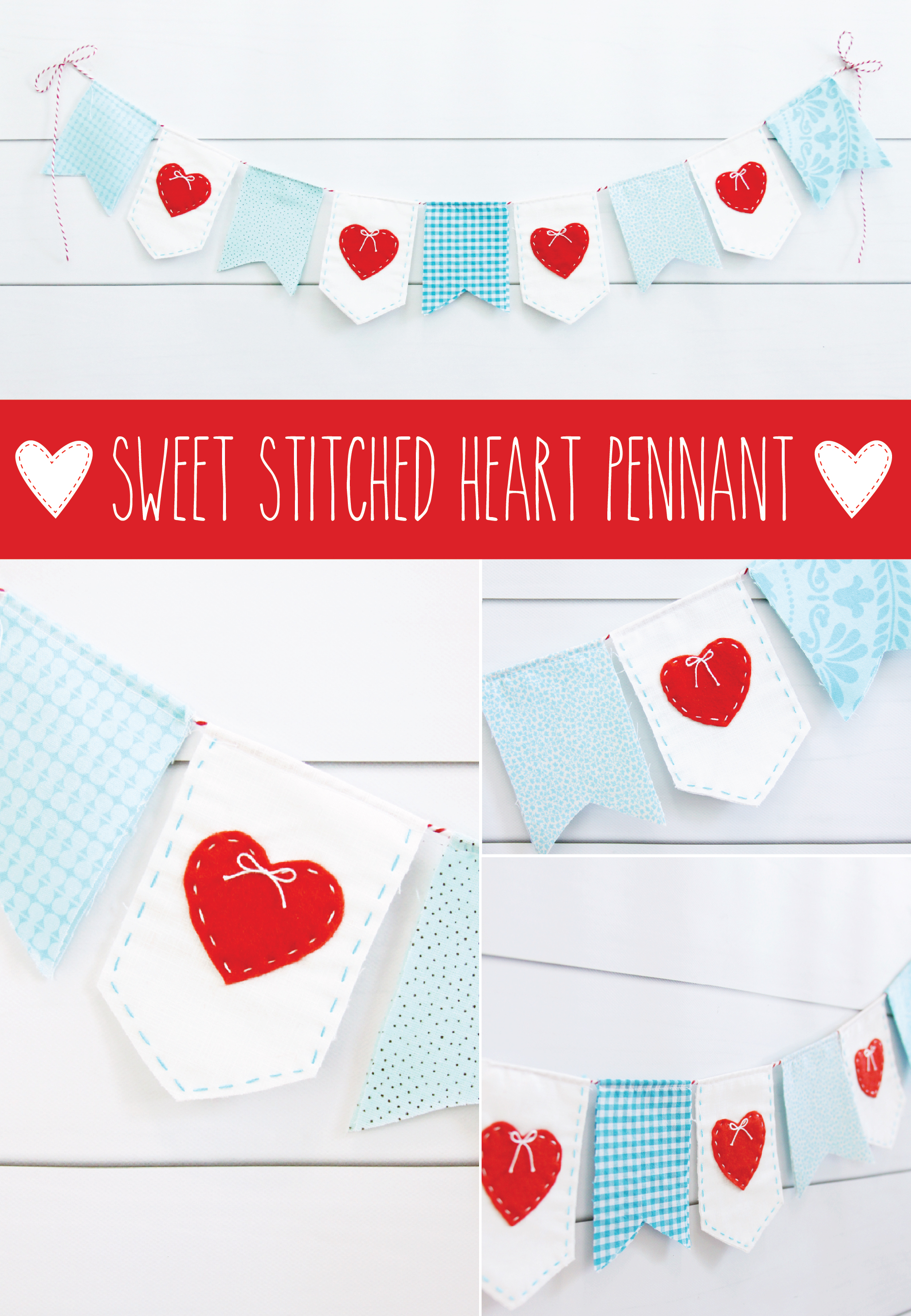 It hardly takes any time to put together but it's so cute and adds a fun touch of color for Valentine's day, or really any time!
Turquoise, red and white are one of my favorite color combos, but you could totally switch it up and make a more traditional Valentine's pennant with red and pink, or get creative and use any colors you'd like. This one is a nice medium size, but it's easy to shorten or lengthen it, just by adding more little pennants.
It's a great stash busting project too – dive into those scrap bins and mix and match your fabrics!
Sweet Stitched Heart Pennant
Materials:
Assorted printed fabric pieces – 3″ x 8″ each
White fabric pieces – 3″ x 8″ each
red felt piece
DMC embroidery floss – turquoise and white
red and white twine
glue or fusible webbing
Begin by cutting out all your pennant pieces. You'll need to alternate turquoise and white pieces for the pennant.
Leave a length of twine so you can tie a bow. Fold the first piece of pennant fabric around the twine and sew or glue the fabric in place around the twine.
Repeat for the length you'd like your banner. Make sure you leave enough twine at the other end for a bow.
Cut out a felt heart for each white fabric pennant. Glue or fuse the heart in the center of the white pennants.
Stitch each of the white pennants by doing a running stitch around each pennant with turquoise floss. Do the same around the heart with white floss and tie a tiny bow at the top of each of the hearts.
Repeat for all of the white pennants and your banner is all set to hang!
I hope you have a lot of fun making these! Wouldn't an Easter or St. Patrick's day version be cute too? You could just use different felt shapes!
You might also like
Vintage Hearts PS I Love You Banner