Oh my goodness – you are going to love this!!
Have you met Heidi from Honeybear Lane?
Heidi has one of my favorite blogs! She is so talented and sweet – and she has some seriously mad quilting skills!
She has just added a whole new line of finished quilts, quilt kits and patterns to her Honeybear Lane shop – I can't wait to show you!
Aren't the quilts just gorgeous??
Take a look at this fabulous Ziggy Puff Quilt . .
Or this Sonrisa Puff Quilt. The colors are beautiful.
If you're more in the Do-It-Yourself mood – she also sells kits of her Diamond Puff Quilt and the Ziggy Puff Quilt, with and without the patterns:
She also sells just the patterns too! Think of all the fun color combos you could put together!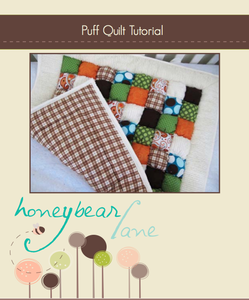 Don't you just want to snuggle up in these? Oh – and your little ones would probably like them too. ;)
They'd make such great baby and toddler gifts too!
Here's the Details on the Giveaway!
Heidi is Giving away at $75 CREDIT to her shop!! That is enough for one of the quilt kits – or you can put it towards one of the gorgeous finished quilts!!
But that's not all – she's also giving away FIVE of her Puff Quilt Tutorial Patterns!
That means we will have SIX lucky winners!!
Is that fabulous or what?
Here's how you enter:
1) Head on over to the Honeybear Lane shop and check it out. Leave a comment letting us know what your favorite item is!
2) Be or Become a follower of Heidi's blog, Honeybear Lane. I promise you'll love it!! Leave a comment letting me know.
3) Share the giveaway on Facebook/Twitter. Leave a comment letting me know what you did.
4) Like Honeybear Lane on Facebook. (If you want to leave her a sweet note on her wall that'd be awesome) Leave a comment letting me know!
Yay! I'm so jealous – I would love to win this one!! :)
Good luck and happy entering! I'll announce the winner on September 5th!
This Giveaway is Now Closed! Thanks for entering!! :)