Up until recently I've kind of had a love-hate relationship with Cornbread.
I love the flavor. All that yummy corn goodness – especially dripping with butter and served with a hot soup or chili.
But sometimes it can be kind of dry and make you wish you had a big glass of milk on the side.
Well if you've had similar problems I have a treat for you today!! I have my new all-time favorite Cornbread recipe to share with you today!
When we were growing up and we'd go stay with my grandparents, my grandma would make cornbread often. And at night as his "bedtime snack" my papa would pour a big ole glass of milk and stick a piece of cornbread in it. Then he'd eat it up with a spoon. I always thought that was kind of odd. Is that a southern thing?
I'm not sure but I think my grandma's cornbread must have been on the dry side.
That is sooo not the case with this recipe! I might even venture to say it's so moist (that is such a weird word) that you may not even need butter.
I take that back. Slather it in butter. It's even better.
So this is a Green Chili and Cheese Cornbread – but you could easily take this recipe and change it up – leave out the chili and cheese and add in a can of corn. Or maybe spice it up with some cayenne!
It makes such a great base. And it's perfect with Chili or any other soup – which is pretty much all I want to eat this time of year.
Here's the recipe in an easy to print out format.
Green Chili & Cheese Cornbread

Print recipe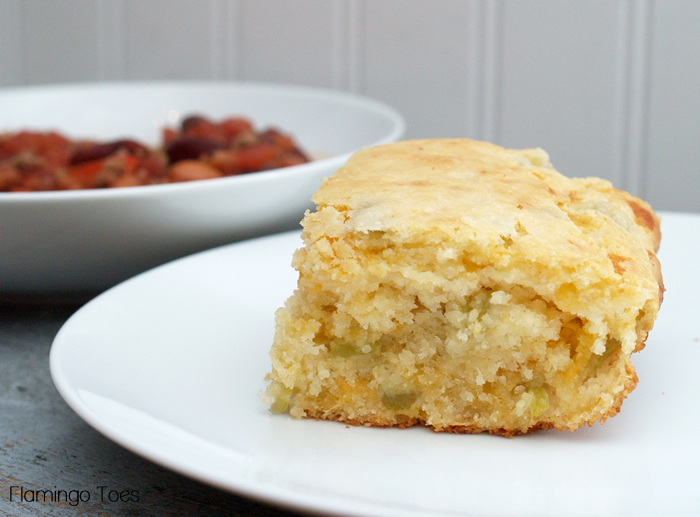 | | |
| --- | --- |
| Serves | 9 |
| Prep time | 15 minutes |
| Cook time | 50 minutes |
| Total time | 1 hours, 5 minutes |
| Meal type | Bread |
| Website | Adapted from Food.com |
Ingredients
1 1/2 cup Flour
1/2 cup Sugar
1/2 cup Yellow Cornmeal
1 tablespoon Baking Powder
1/2 teaspoon Salt
1 1/4 cup Buttermilk
2 Large Eggs (slightly beaten)
1/3 cup olive oil
4 tablespoons melted butter
1 can Chopped Green Chilies (4 oz)
1 cup Cheddar Cheese (grated)
Directions
| | |
| --- | --- |
| | Preheat oven to 350 degrees. |
| | Butter an 8 x 8 square baking dish (Optional - you could also use an 8" iron skillet) |
| | In a large bowl, mix together the flour with the sugar, cornmeal, baking powder and the salt. |
| | In a second bowl, mix together the buttermilk, eggs, oil and melted butter. |
| | Add the wet ingredients to the dry and stir until just combined. |
| | Mix in gently the green chilies and the cheese. |
| | Transfer to baking dish. |
| | Bake for 35 minutes or until a tester inserted into the cornbread comes out clean. |
I hope you'll love it!
Linking up at Sunday Scoop, Today's Creative Blog, Met Monday, Tutorials & Tips Tuesday, Shabby Creek Cottage, My Repurposed Life, 504 Main, and the other fabulous parties on the party page – make sure you check them out!