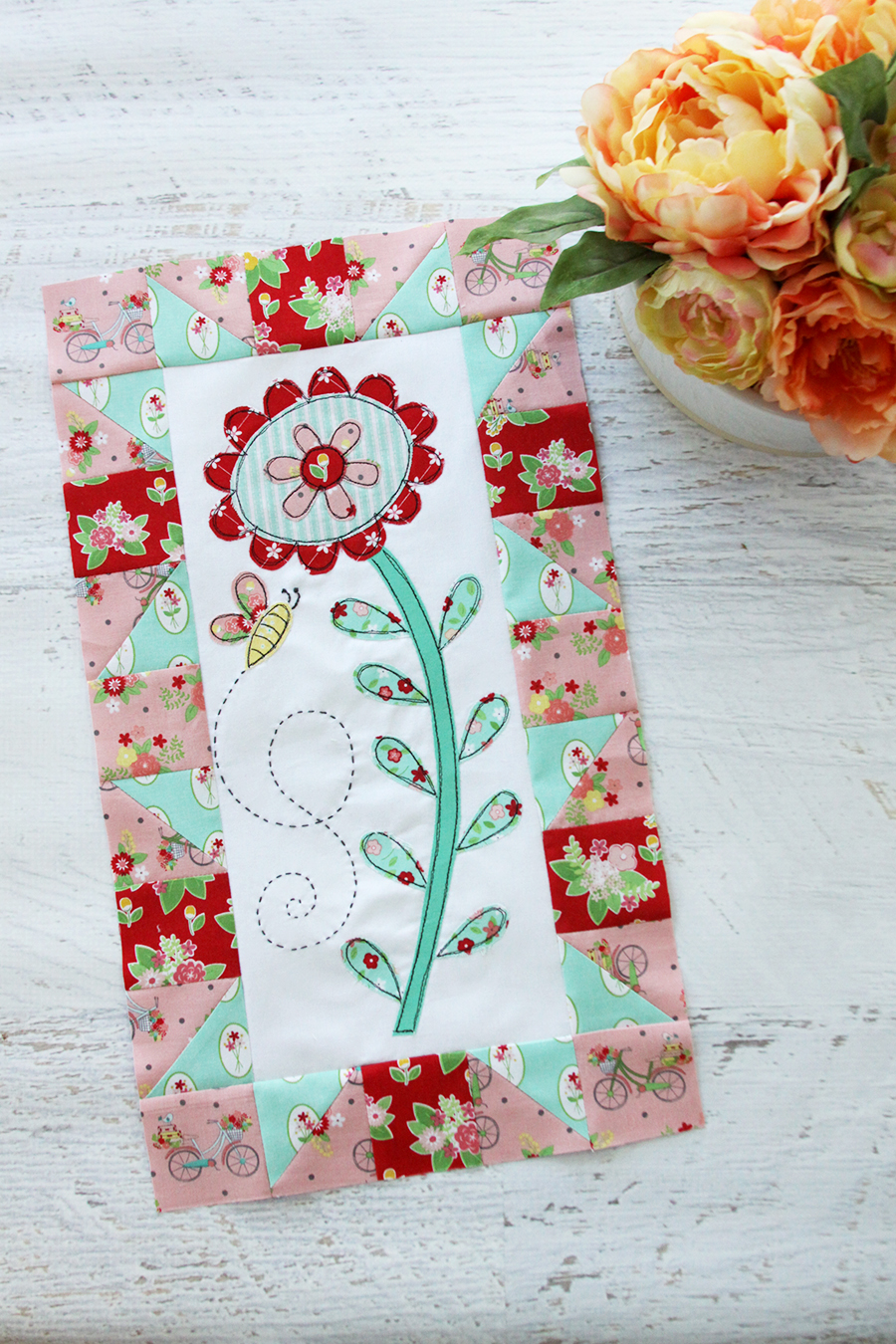 Have you ever participated in a Quilt a Long? I'm so excited to be participating in a couple this year and today I get to share with you this fun Quilt A Long hosted by the super talented Jacquelynne Steves for this Save the Bees Quilt!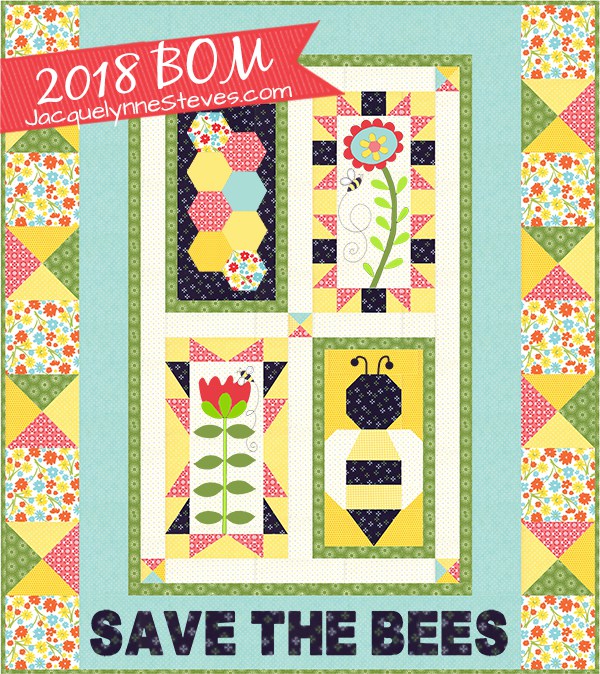 Isn't it darling? I've been doing some research about starting to raise my own bees so when Jacquelynne contact me about the Quilt Along I was so excited! The Quilt pattern is free at Jacquelynne's blog – you can click here to get all the info.
Every month there are several bloggers who will be sharing their own versions of the quilt blocks – here is mine!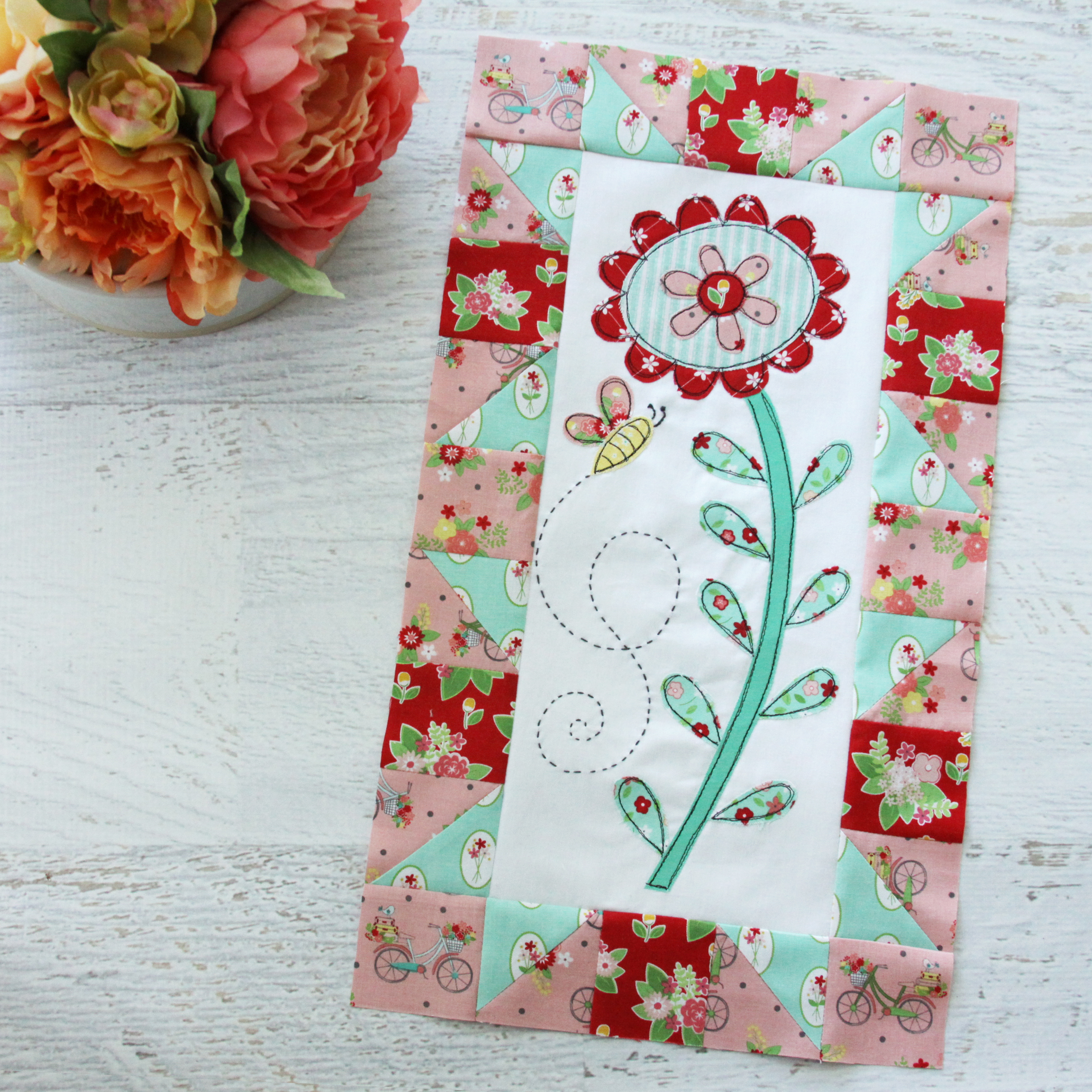 I created my version of the block with Vintage Adventure fabrics. If you're visiting for the first time, Vintage Adventure is my first fabric line with Riley Blake Designs. I love how it worked with this fun flower and bee block!
For my block, I did a combination of hand and machine embroidery. The hand embroidery is a simple running stitch done with three strands of gray floss for the path of the bee. I outlined the flower and other details with a free motion foot on my machine and Aurifil 50wt Black thread.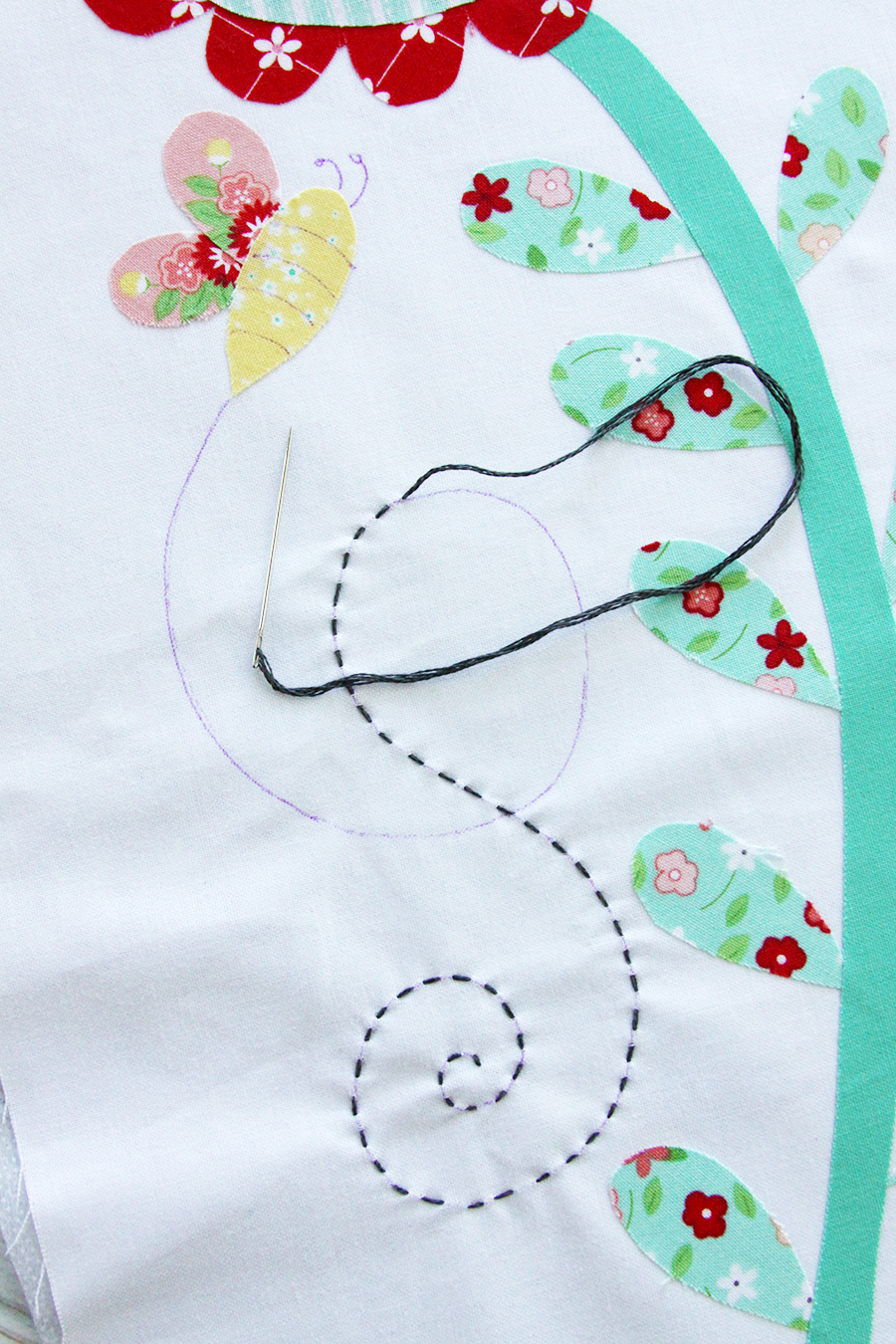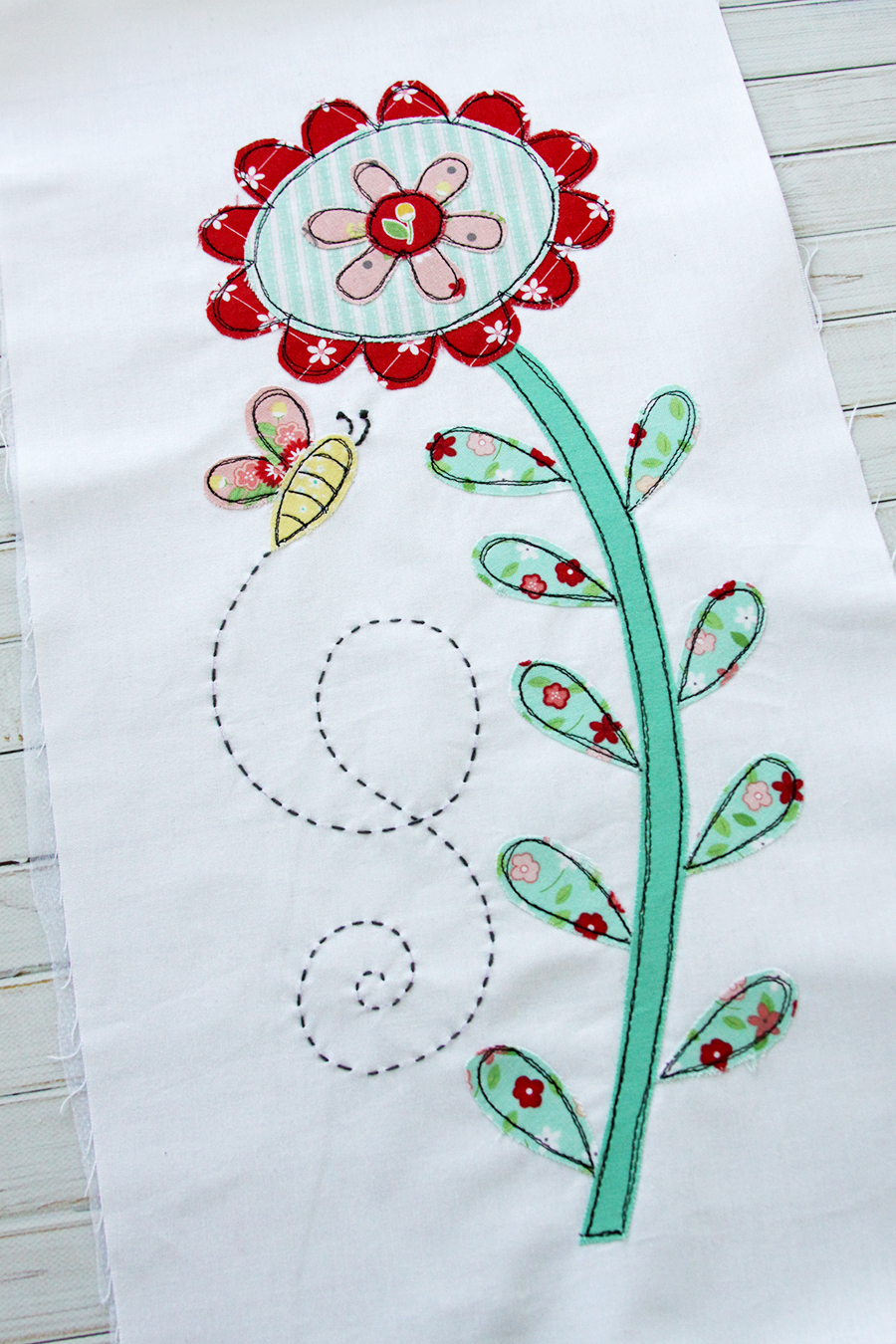 Since I don't have any yellow in my fabric line, I used a little piece from Bunnies and Blossoms by Lauren Nash for Riley Blake Designs. It blends great with Vintage Adventure!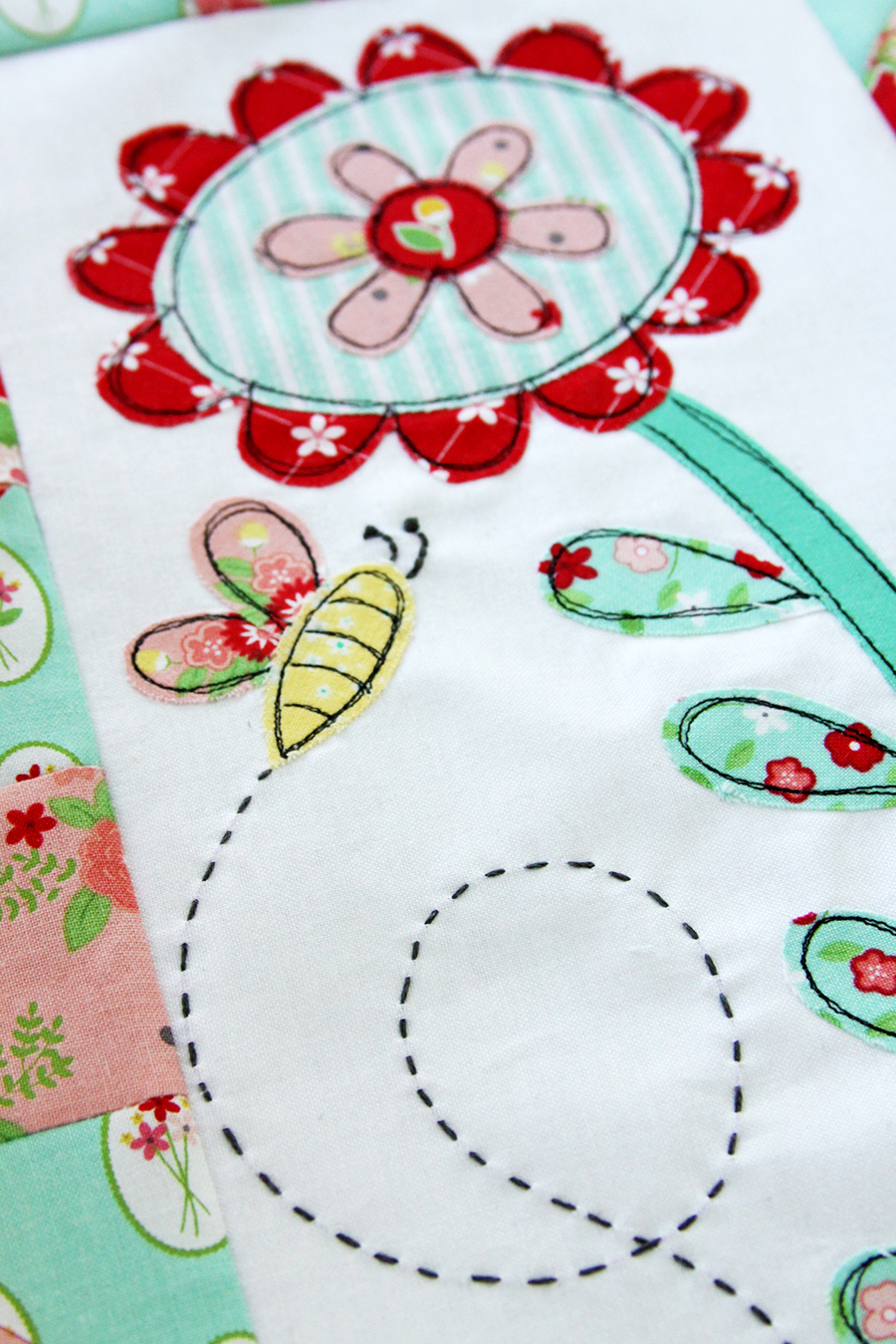 We will all also be hosting giveaways every month! Each blogger will be hosting their own giveaway for the item so you can hop over and visit everyone and enter. This month the giveaway is for the amazing Sew Sampler book!! ***** The Giveaway is Now Closed***** Thanks for entering!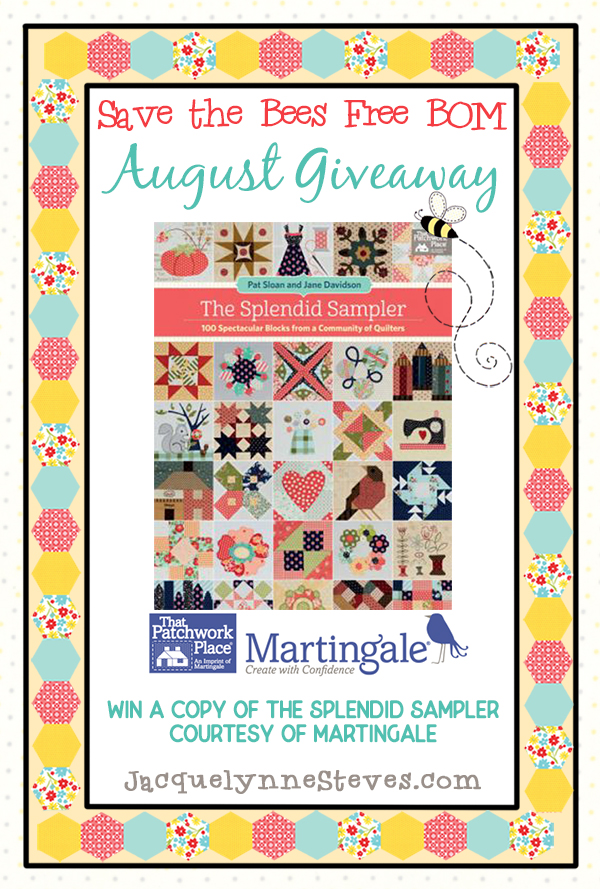 The giveaway is open worldwide – if the winner is in the US they will receive a hard copy of the book and if they are an international winner they will receive a digital copy of the book.
***** The Giveaway is Now Closed***** Thanks for entering!
To Enter the giveaway here: Leave a comment on this post by scrolling down to the bottom of the post to the section titled Leave a Reply. You can then enter your comment.
To enter to win a copy of Sew Sampler courtesy of Martingale, leave a comment answering this question – have you ever done a quilt along? If you did – what did you make?
We will close the giveaway on Sunday August 12.
To sew along with us, head over to visit Jacquelynne Steves to get the pattern and all the information! It's definitely not too late to sew along with us. We'll be posting new blocks every month so you have plenty of time to sew too! We'd love for you to share photos of your quilt blocks in the Save the Bees Facebook group too!
You can enter the other giveaways by visiting the other bloggers and see their blocks as well! Click each link below to enter: