This is a sponsored post with Jo-Ann. All opinions are my own. :)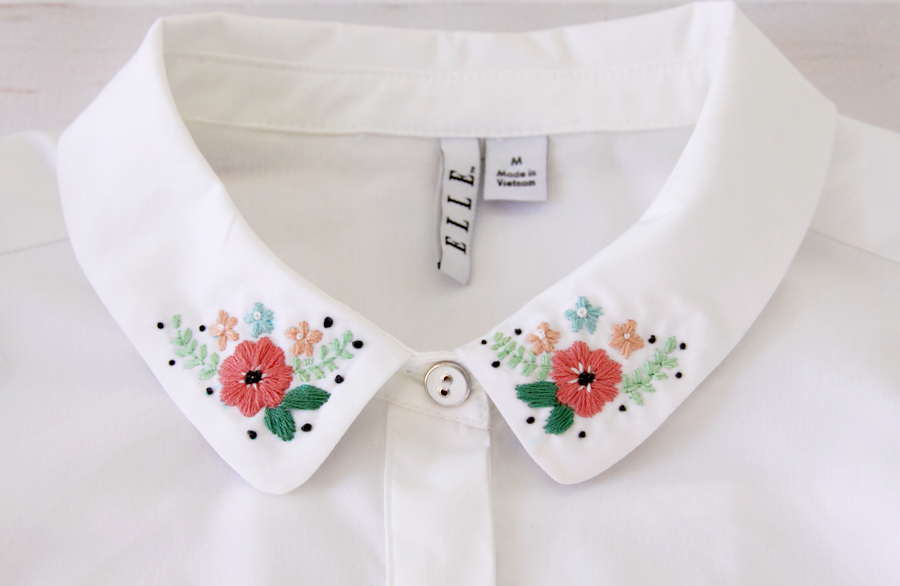 Are you having gorgeous weather right now? We are and I am LOVING it! Everything is in bloom and so pretty. It makes me want to fill the house with all the flowers. :) I'm dragging out all my fun Spring clothes too – all those pastels and florals and pretty light fabrics!
I decided to dress up this plain white top with a pretty floral embroidered collar and I love how it turned out! It goes so great with my Spring skirts too!
This simple design is a combination of satin stitches and French Knots so it's great for beginners or more experienced stitchers. You can really have a lot of fun playing with colors too! If you're wanting to match a favorite skirt, choose coordinating embroidery floss colors for your flowers. Or you can create a really soft, subtle look and go with neutral floss colors in grays and creams. There are so many options!
Here's what you'll need to make your own!
Materials:
DMC Embroidery Floss: White, 564, 598, 754, 760, 3799, 3815
Floral Pattern – You can create your own or you can use the one I created. You can find the pattern here.
Top with collar
Start with a top that has a plain collar. You can do a white one or you can try a light color or even a polkadot top!
Print and cut out your design, making sure it will fit on your collar well.
Carefully transfer the pattern onto the corners of the collar, making sure that the designs are aligned opposite each other and the same distance from the edges and corners. You can transfer the design by using a light box (like this one from OttLite) or you can tape the design in a window and as the light shines through, place the collar edge over the design and trace.
Place the collar carefully in a 3″ hoop. It probably won't fit perfectly but that's ok, just get it as tightly in the hoop as possible.
The flowers and leaves are all stitched with a Satin Stitch. This is basically just a straight stitch that fills in all the design area. For a large flower like the center one, I like to stitch guides around the flower first, so my stitches don't wander all over the place.
Continue filling in the space now between the guides with smooth straight stitches. Keep the thread tight, but don't pull so hard that the fabric puckers at all.
Stitch the rest of the flowers and the leaves with satin stitches. Stitch the stems of the leaves with a back stitch and fill in the centers of the flowers and the dots around the design with French Knots. If you need help with these stitches, check out my Embroidery Tips page.
Repeat for the other side of the collar so you have to matching sides that are mirror images of each other. Now you have a cute, custom top to show off!