My daughter and I are frozen coffee nuts – it's our favorite Summer treat when we're out running errands. Now that we're living a little more in the country though – it's not so easy to pick up a fun flavored coffee. It's a little out of the way. So we decided to get creative and make our own! Not to mention that making our own versions is wayyy less expensive. Bonus!
To make up our own frozen coffees, I got creative with the International Delights Mocha Coffee and paired it with the Hot for Cookie creamer to make up this Mocha Chocolate Chip Frozen Coffee – it's a super yummy blend of the mocha and the creaminess of the cookie flavor. Hello new favorite drink. The Iced Mocha Coffee comes in a light version as well – so if you want to cut down on your calories that is a great option for you.
You can blend this up in less than 5 minutes too – so no long waits for your treats.
Here's the easy recipe for you!
Mocha Chocolate Chip Frozen Coffee

Print recipe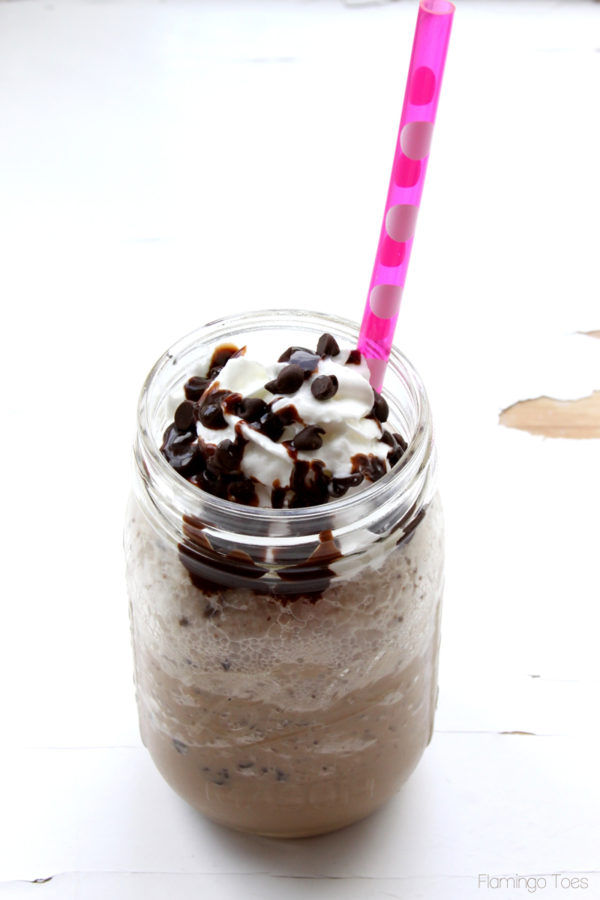 Ingredients
1 cup International Delights Iced Coffee - Mocha
1/4 cup International Delights Hot for Cookie Creamer
2 cups Ice Cubes
2 tablespoons Chocolate Syrup
1/4 cup Mini Chocolate Chips
Whipped Cream (Optional Topping)
Chocolate Syrup (Optional Topping)
Mini Chocolate Chips (Optional Topping)
That's all there is to it – so fun right? I hope you give it a try!
International Delight is having a fun little Summer giveaway too over on Facebook!
This is a sponsored conversation written by me on behalf of International Delight. The opinions and text are all mine.