This DIY cat mugs post is a partnership with Plaid Crafts. All opinions are my own. ;)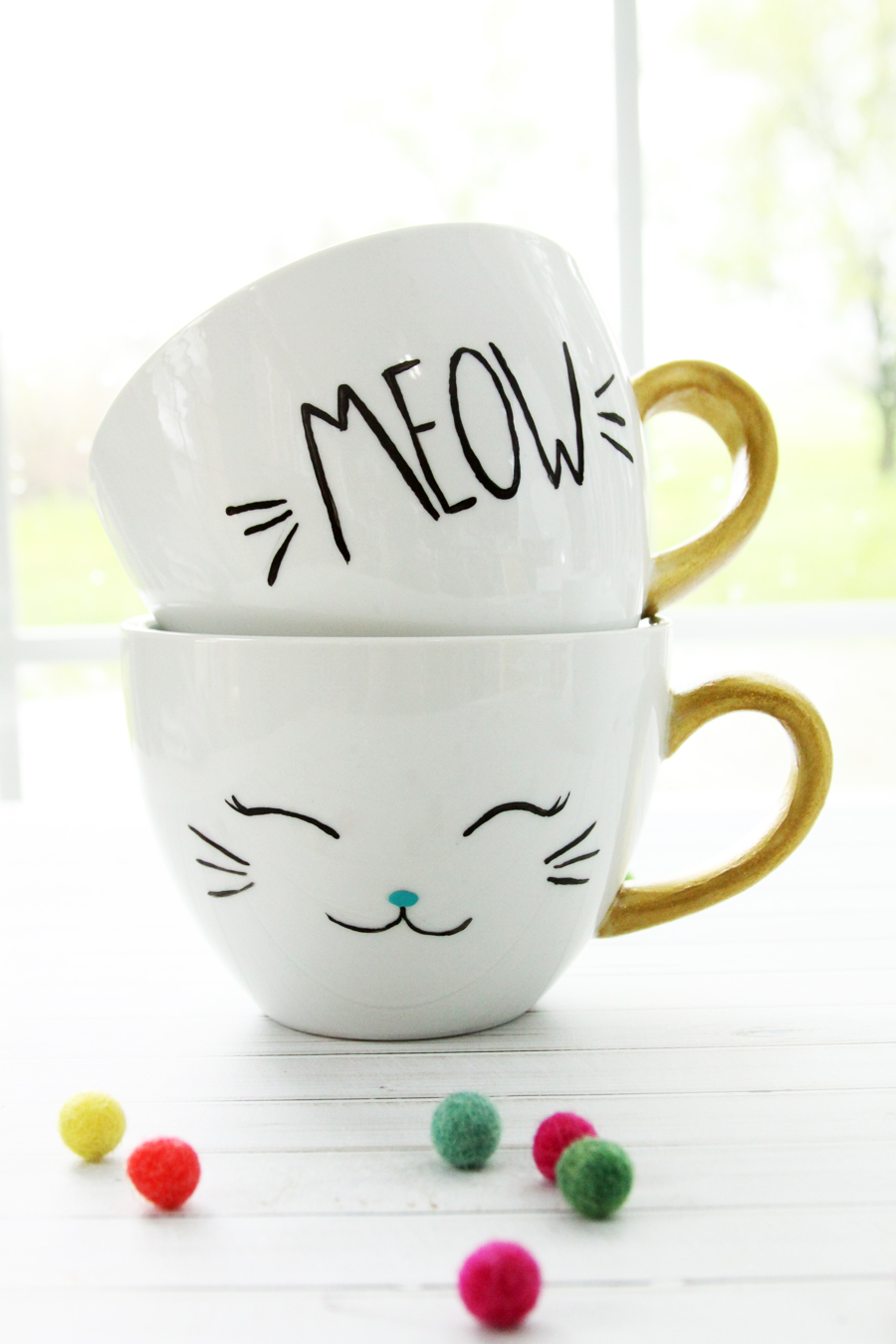 I have a bit of a mug addiction! I have all sorts – florals, funny, souvenir types and lots more. My favorite go-to's are my cat mugs! I thought it was high time I made some myself so I broke out the paints and Mod Podge and made these DIY Painted & Dishwasher Safe Cat Mugs!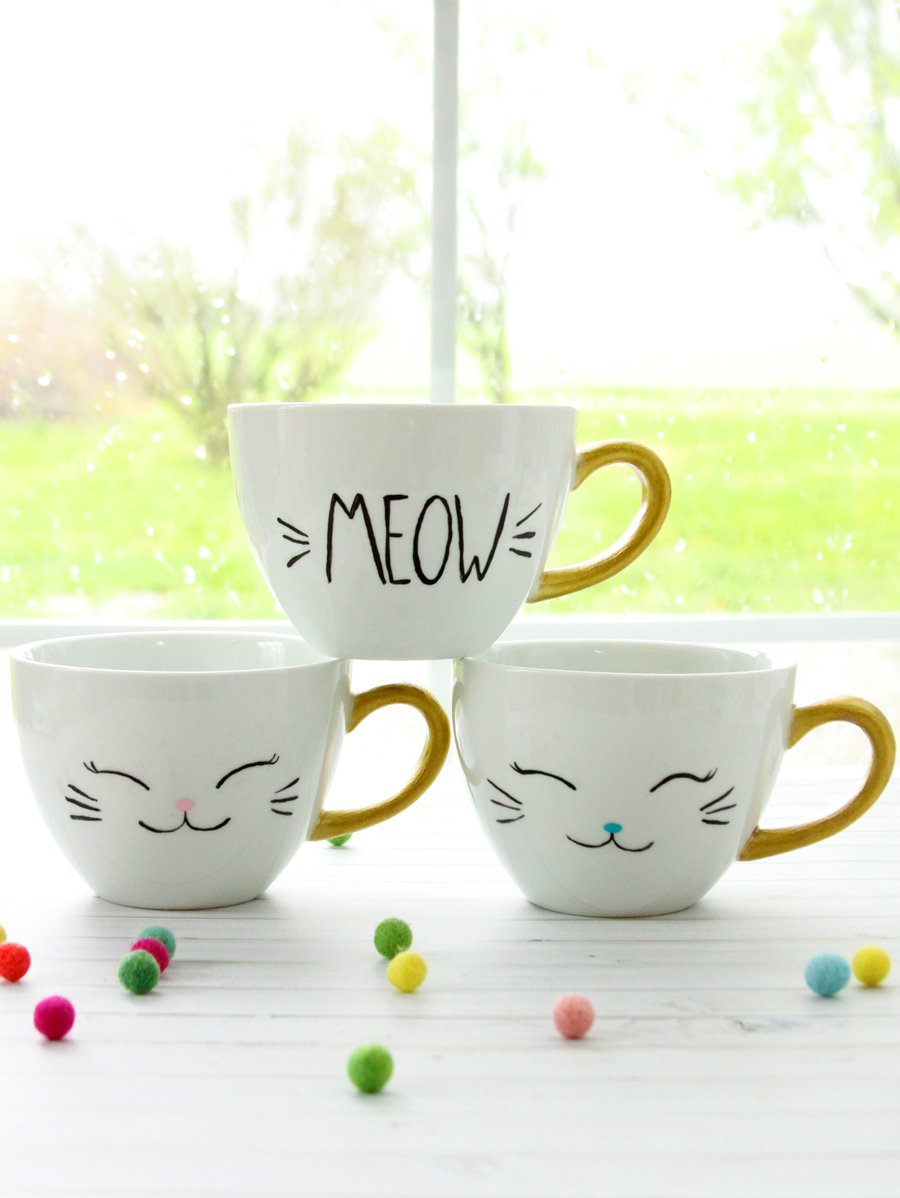 They are super simple to make – you just need a little paint, some brushes and the Dishwasher Safe Mod Podge! And a mug or three. :) Because once you get started, it's so much fun to keep painting! They're a great way to celebrate National Mod Podge day too! More info on that at the end of the post – but there's all kinds of awesomeness you don't want to miss out on!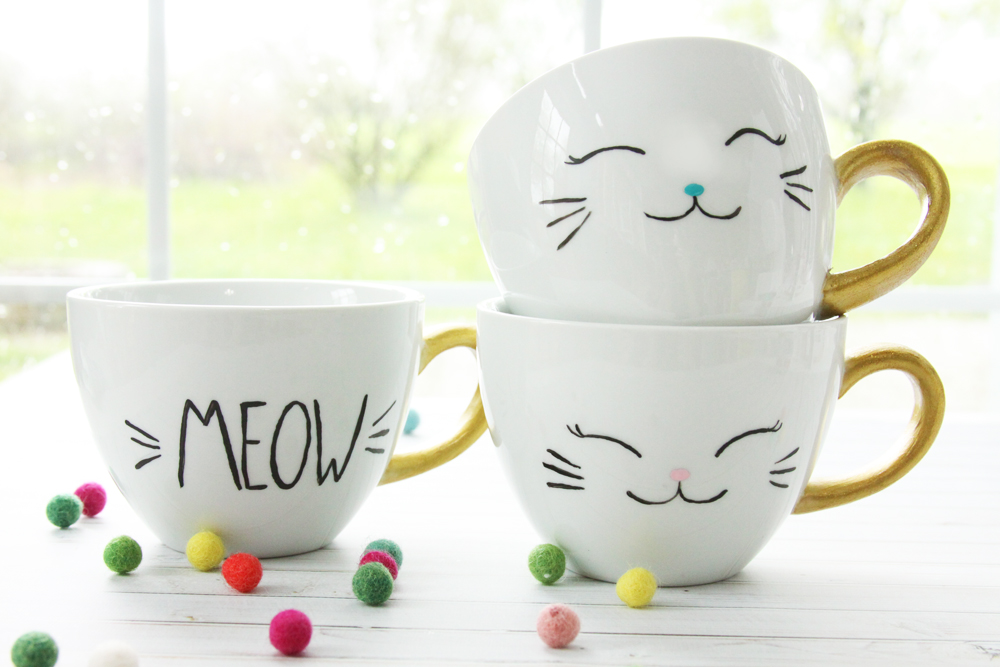 DIY Painted & Dishwasher Safe Cat Mugs Tutorial
Materials:
Mug(s) – the supplies here will do several mugs!
Optional – pencil for marking, damp paper towels, paper plate or other palette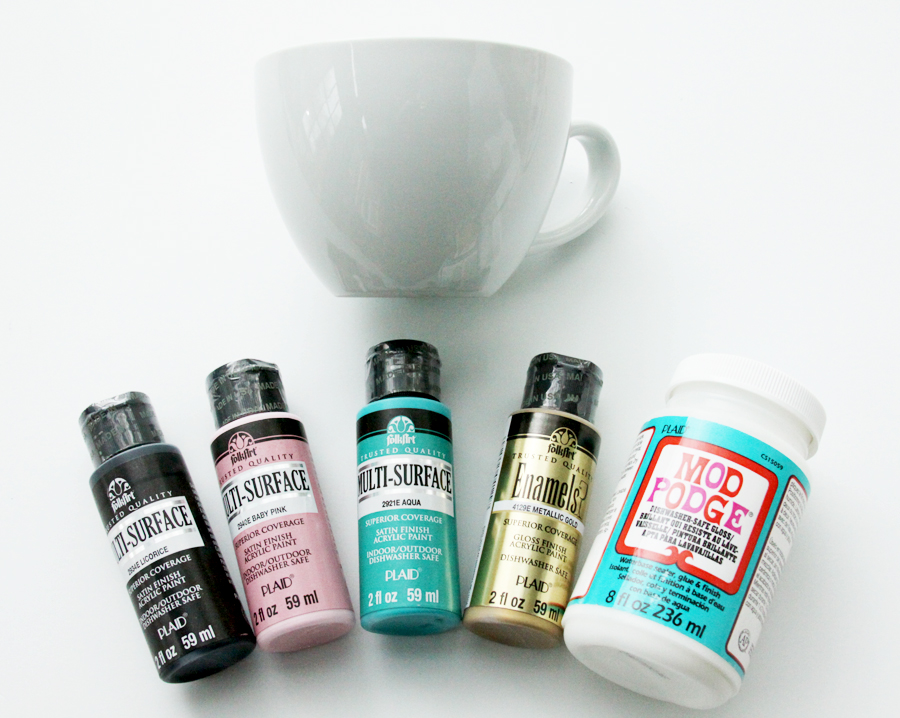 Before you start painting, make sure your mugs are clean and dry. Start by sketching out your design with a pencil. If you go over it a couple of times, the pencil will make a light line on the mug for you to follow. Keep your design at least 1″ below the rim of your mug. The paint and Mod Podge are non-toxic but you still want to keep them a safe distance away from the rim of the mug.
The Multi-Surface paint is dishwasher safe but I wanted an extra layer of protection in washing them with the Dishwasher Safe Mod Podge.
Dip your fine line brush in the Licorice paint and brush off a little of the paint on your palette so you have a nice fine line. Draw on your cat's eyes, eyelashes, whiskers, and mouth.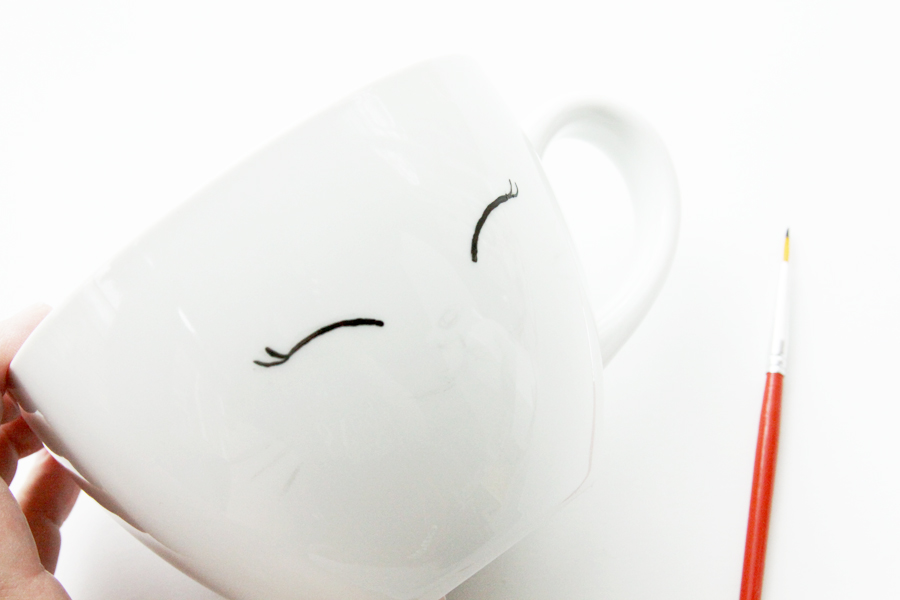 Try to keep them as even as possible. If you need to, wipe the paint off with a damp cloth before it dries and start over. It's super easy to clean off at this stage.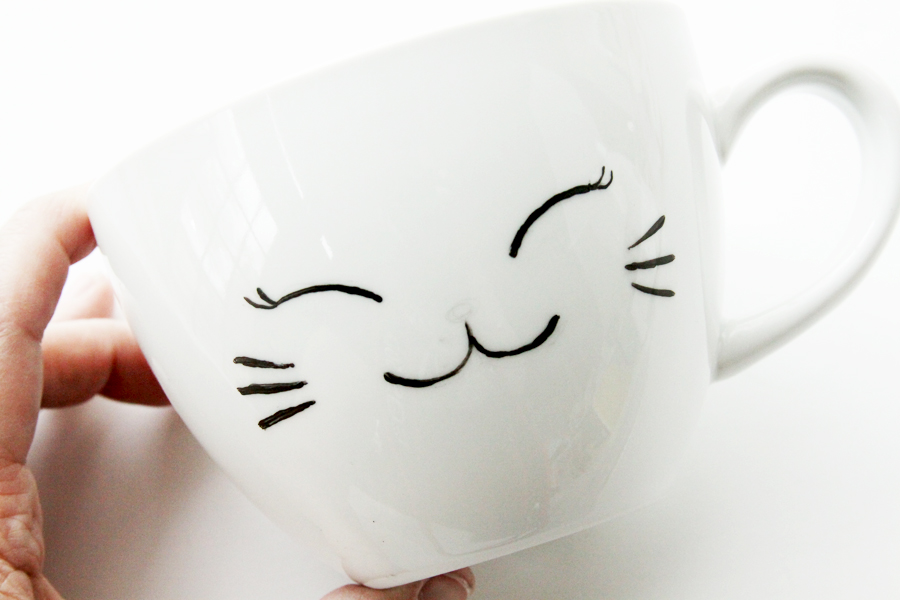 Using the colored paint, paint on the nose. I did one mug with a pink nose and one with an aqua nose.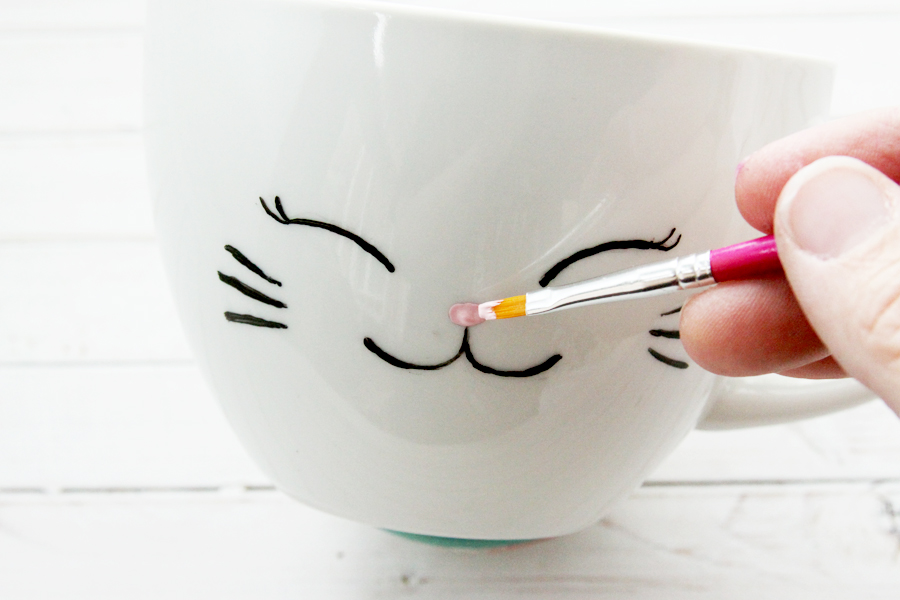 These little faces make me so happy!!
You can also paint one with the phrase MEOW with whiskers on each side. I found it easiest to practice writing the word with a pencil first, then tracing it onto the design. I kept mine with a blocky font, but a hand lettering script would be super fun too!
Now onto the handle! Paint the handles of the mugs first with the FolkArt Enamels Gold paint. This will give it a great color and make the glitter paint stand out even more. Paint as many layers as you'd like, until the gold is as dark as you'd like.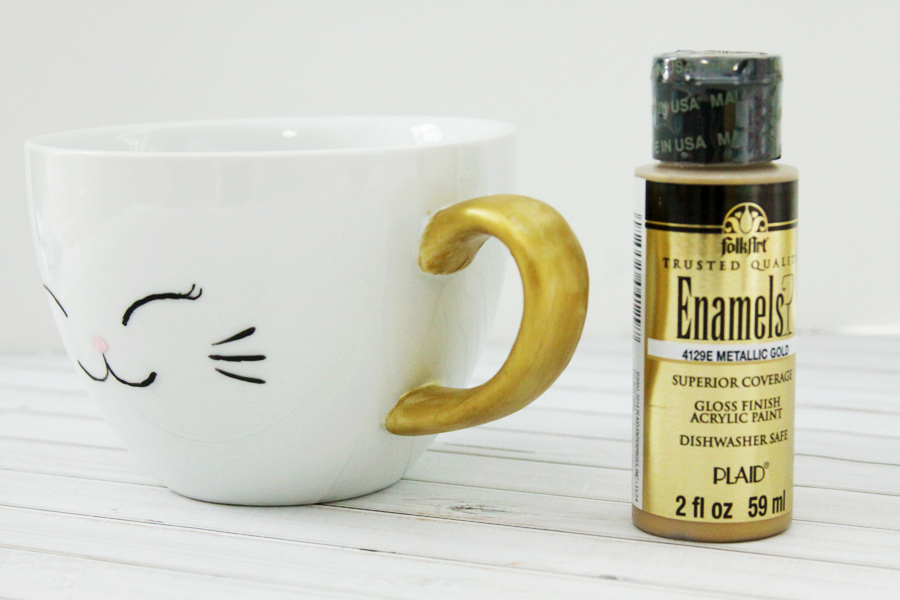 Once the gold enamels is dry, cover the handle with the FolkArt Extreme Glitter. Again, keep painting until your handle is as glittery as you'd like. It's a little hard to tell in the photo, but the handle has a super pretty fine glittery look to it!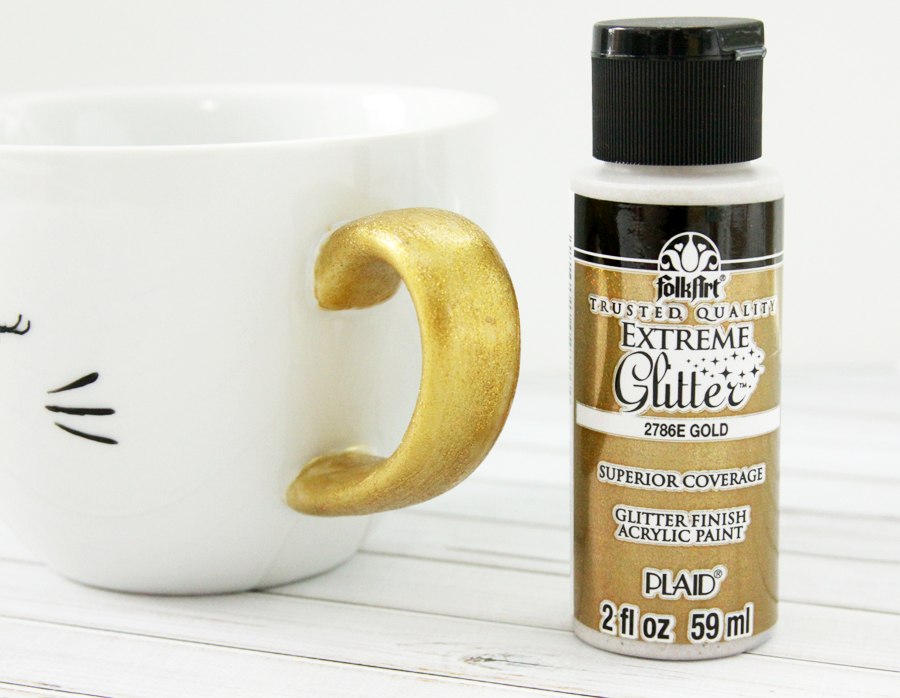 Once your paints are all dry, brush on the Dishwasher Safe Mod Podge Gloss, over the face and the handle. Follow the instructions on the bottle for coverage and cure time. The Mod Podge has a 28 day cure time – and once it's cured you can put it in the top rack of the dishwasher for cleaning! I can personally swear by it as well – I've made a glitter mug and a fabric mod-podged mug and they are both still holding up great!!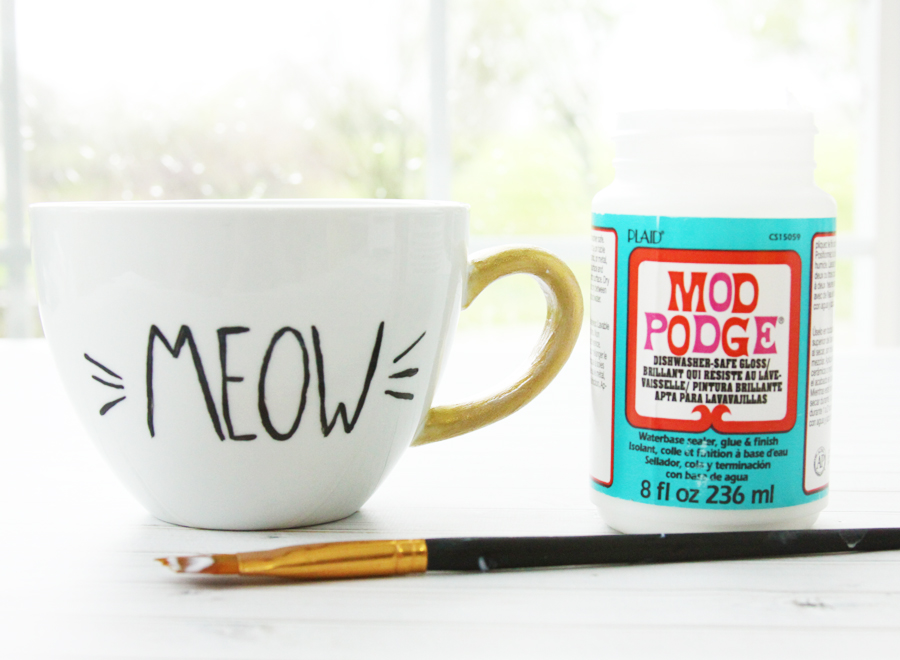 Aren't they cute? They'd be perfect gifts for a cat-loving friend too!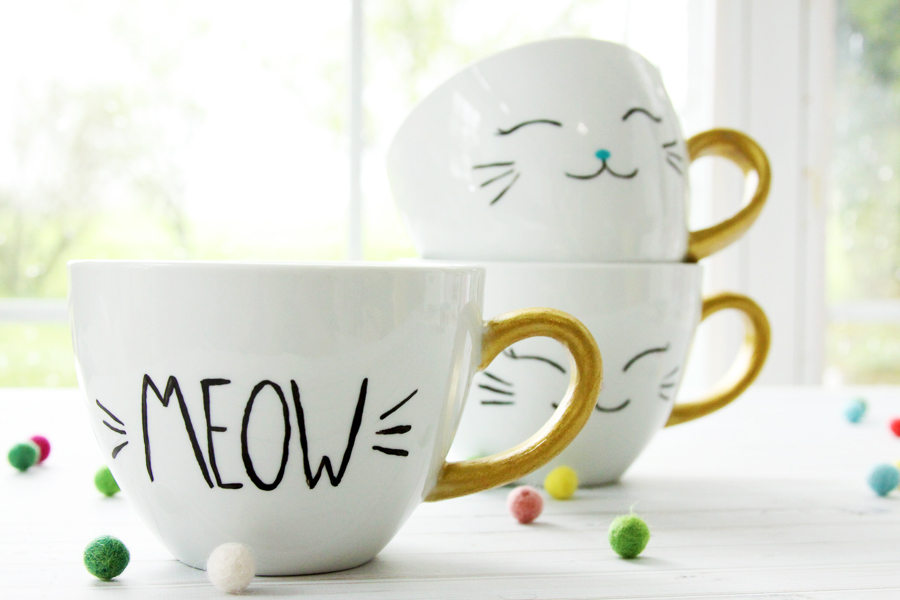 Friday, May 18th is National Mod Podge Day! We're celebrating all things Mod Podge – share your favorite Mod Podge creations as a public Instagram feed post with #NationalModPodgeDay throughout the month of May for a chance to win weekly Mod Podge prize packs from Plaid – check out this post for more info! Plaid will also feature live streams leading up to National Mod Podge Day, so be sure to follow them on social.
I'll be doing a Live Stream tutorial on how to make these cute mugs on May 14 on the Plaid Facebook page so make sure to tune in for that!

Find more fabulous Mod Podge projects at the other Plaid Creators websites!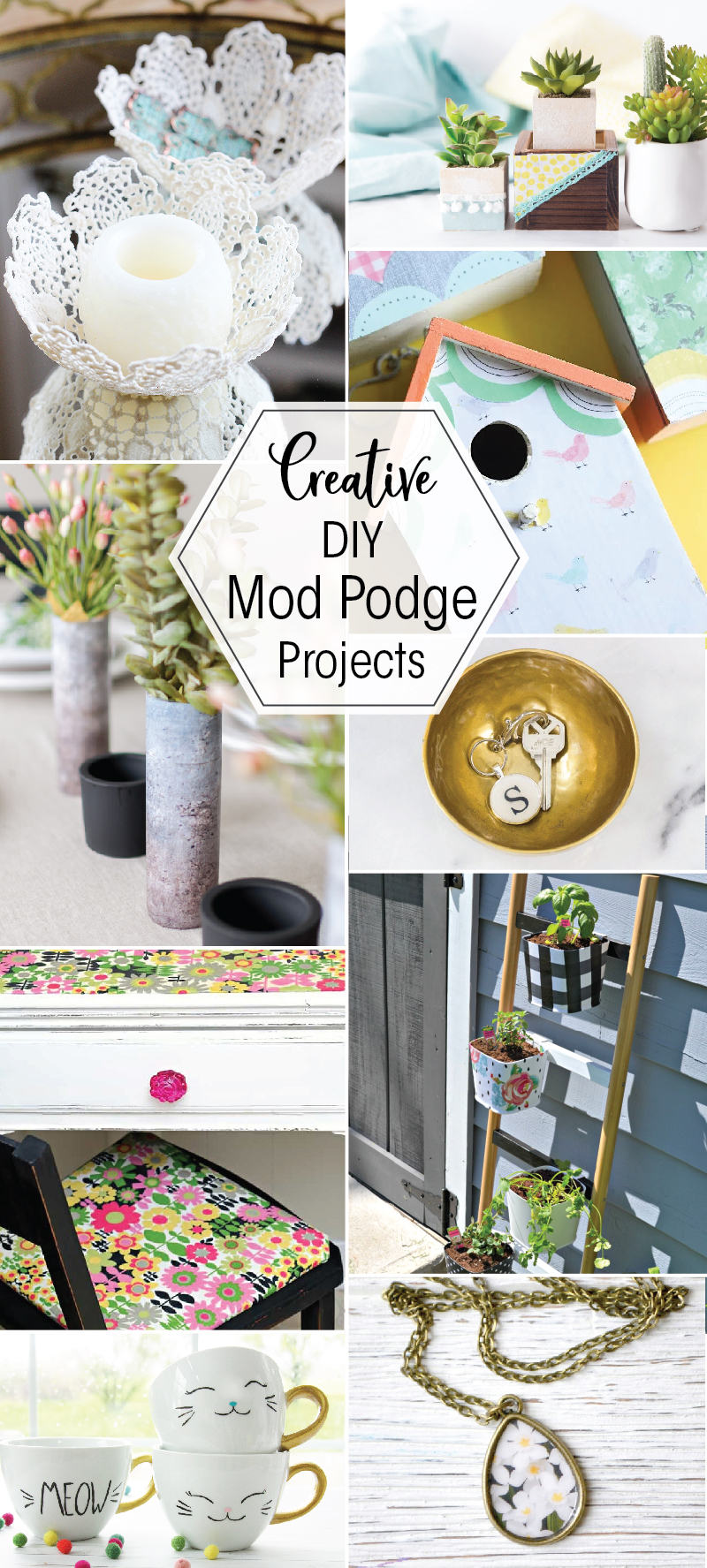 The Cards We Drew – Herb Ladder Planter
Positively Splendid – Lace Doily Bowl
The Pretty Life Girls – DIY Patterned Birdhouses
Erin Spain – DIY Monogram Keychain
Cherished Bliss – Faux Concrete Vase
Amy Latta Creations – Personalized Pendants
Petticoat Junktion – Fabric Covered Cabinet and Chair
Made to Be a Momma – Fabric Embellished Succulent Planters