I hope you are all having a Happy Monday!!
I sure am and here's why:
1. I get to announce the winner of the November Follower Giveaway! Drum Roll Please. . . . ..
(In my head you are all making that drum roll sound. Don't disillusion me if you're not.)
The winner is
Who is lucky number 208??
Stacy from Scrap-N-Play who said: "I also like FT on FB!"
(That was her third comment – those extra entries help!! :)
Stacy I'll be sending you an email soon!
The Rebecca Shoulder Bag download is no longer available for free – but it will be up in the Etsy shop this week!! And thanks everyone for your sweet comments. You guys are the best. :)
The second thing I'm happy about is that I'm a finalist in the Copy Cat Challenge from Sew Much Ado!!!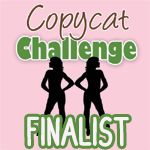 My Anthro Paisley Rebirth necklace made the finals! I am so excited.
Head on over and check out the amazing knockoffs and vote for your favorite! You have 5 days to vote.
See? Happy Monday! :)