Hey everyone!
I'm over at The Scrap Shoppe today as part of Michele's Homemade Christmas series!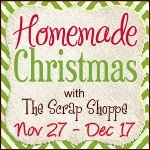 This week the tutorials are all Homemade Gift Ideas!!
I'm sharing a tutorial for this cute little bracelet!
Isn't it cute? It comes together really quick and easy!
Come on over and check it out and say hi – and while you're there, check out the adorable tutorial from yesterday too!
There will be other great gift ideas all week – then next week will be Holiday Decor ideas and Week 3 will be Holiday Recipes! Woohoo!