Alternate title: My life in blogging through funny pinterest e-cards. . .
Wow – this Blogging ride is quite the adventure. I can hardly believe it's been 2 1/2 years already!
I wanted to take a minute and update you on some things going on – I know most of you aren't bloggers, so the "business" of blogging isn't so interesting. That's why I'm keeping this short and sweet. Hopefully. :)
But I also thought you might want to know some behind-the-scenes stuff – cause that's always fun. Or maybe that's just me. I'm nosy like that.
When I started blogging I really had no specific goals. I wanted to share things I was making, find others to connect with, and maybe someday try to get published. or something.
Making money didn't really seem like an option.
I was working from home doing graphic and website design part-time and trying to balance that, blogging, oh and everything else. Like life.
And while I loved doing everything – it was a stretch sometimes not to feel like a crazy person. Or to actually have clean clothes.
Well over the past couple of years I've figured a few things out with this blog, and been blessed by a lot of things and I am excited to say that I have been able to quit my job and am now able to blog for a living!
Wooooohooooo!
Well, not really for a living. Because let's face it – blogging does not generate a lot of income.
The blog does generate enough income now though to cover the costs of blogging (hosting, supplies, etc) and help out with bills. So yay for that! I'm super excited.
And I owe so much of that thanks to YOU! Without you to come and visit and support and be encouraging, I would not be able to do what is basically my dream job every day.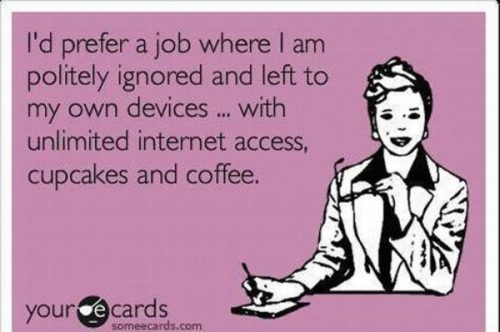 Just kidding about the being politely ignored part. :)
Even though there are definitely ups and downs – this is not always all fun and rick rack (points at rude commenters) – I feel so blessed to be at the point where I can do this full-time.
Now that does mean that I'll be supplementing just a bit with some sponsored posts. I know there are some very strong feelings out there about them – and I understand that. But I promise to keep things balanced and bring you info on products or companies that I feel like would be a great fit for us! If I could do this full-time and be able to create and give away tutorials for free all the time, I would love to do that. But in order for me to be able to keep going like I am, I will be adding a few in here and there. If that's not your thing and you feel like you have to unsubscribe, that's ok.
I'll be sad, but that's ok. :)
So I'm looking forward to having time for creating more patterns, and hopefully getting that book proposal in – and getting some of the big projects I have in my head done!
Oh – and did I say thank you for all your support?? I am so happy that I can share this adventure with all of you!