This post is a partnership with Plaid – all opinions are my own. :)
It's been too long since I did a jewelry project! I've been having such fun doing projects with napkins so I thought I'd try them on a jewelry piece. You can never go wrong with Liberty print napkins right?? Well I'm super excited about how this 30 Minute Rustic Floral Necklace turned out. It's so cute and quick to make and it would make a great gift too!
It is really cost effective as well – just a few beads, a napkin and some chain and you have a fun and unique necklace. You could even make up a couple and keep one for yourself – I won't tell!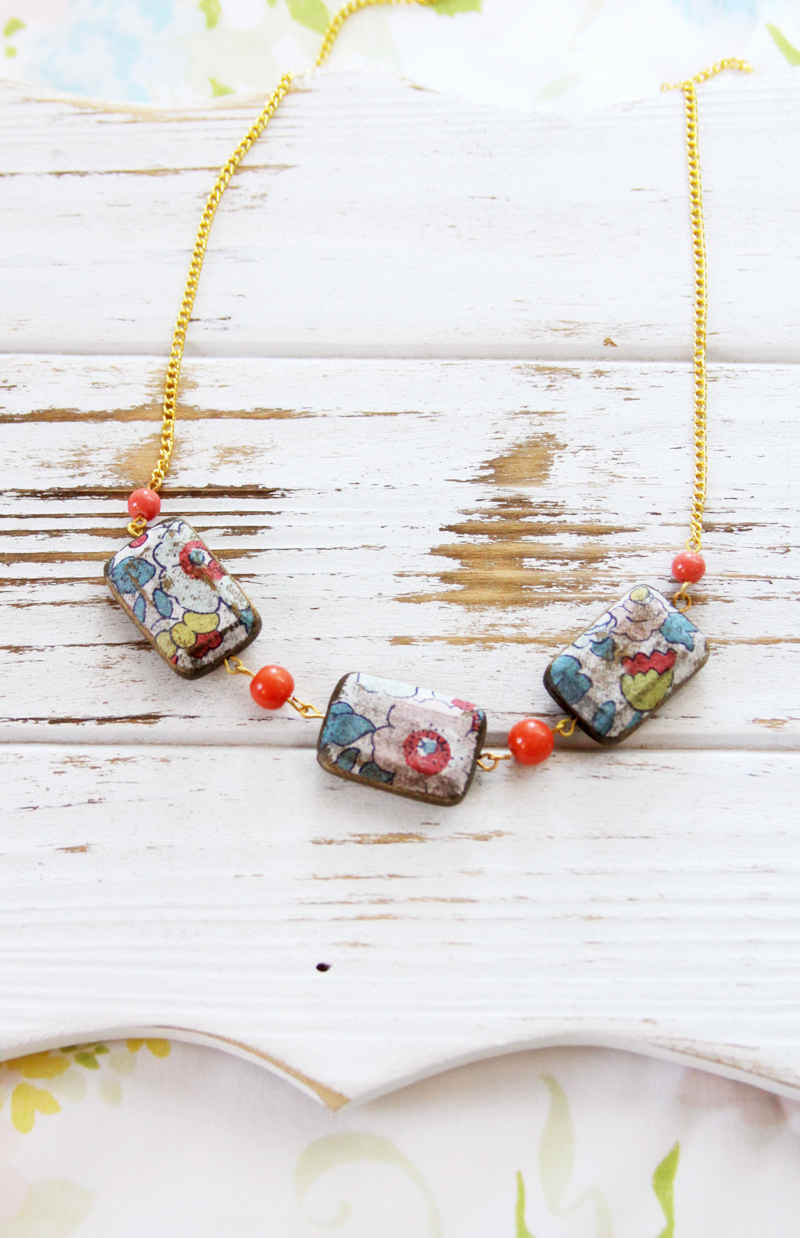 Here's what you'll need to make your own 30 Minute Rustic Floral Necklace:
Materials:
Mod Podge – I used the Matte finish
Mod Podge small brush – 1/2″ size
3 flat wooden beads
floral napkin
2 medium size beads
2 small beads
7 eye pins
18″ length of chain
lobster closure
2 jump rings
fine sandpaper
Tools: scissors, needle nose pliers, wire cutters
Start by choosing your beads and napkin. I wanted to use flat wooden beads (these are from Michaels) but you could use round beads as well!
Trim the napkin so it's just a bit smaller than the top of the bead. Remove the white layers so you just have the printed top layer.
Brush a light coat of Mod Podge on the wooden bead and center the napkin piece on the bead.
Press the napkin down the sides until it's all flat. Wait for the Mod Podge to dry.
Repeat for your other beads. I got a little carried away here and made too many. :)
Brush the napkin very lightly with the sandpaper. It's super fragile so you want to be really gentle – just lightly sand the edges and the corners to give it a more worn, rustic look. Brush the bead with another coat of Mod Podge to seal it.
Once it's all dry, add eye rings to your wooden beads and form a loop on the end opposite the eye. I have some simple Jewelry How-To's here for you.
Add your beads to eye rings and form loops on the other end for them as well.
Connect your wooden and colored beads by opening back up the eye loops and connecting them. Close up the eye loops.
Cut your chain into two pieces and add a length of chain to the loops on either side of the strand.
Finish your necklace with jump rings and a lobster closure.
Now you have a super cute necklace, in just about a half hour!
I love how it turned out! Now I just need to make up more for gifts!
You can find more 30 minute gift ideas with the other Plaid Creators today – here are the links to check out!