I love this time of year!
Not only do we get to go to awesome and festive Christmas parties in person, but this time of year in the blogs there are amazing parties and series going on, full of gorgeous Holiday projects, gift ideas, and so much more. All by such crazy talented people. I love scrolling through all the projects – I have gotten so many great ideas this year!!
Today I'm over visiting my friend Amy, from Positively Splendid.
Ok – before I send you over I just have to tell you I LOVE this girl!! She is so talented (seriously – everything she does is clever and gorgeous) but she's also genuinely one of the nicest people I've met in blogging. So when you head over there, if you're not already a huge fan of hers, take a look around! You'll love her too!
I'm sharing a super fun knockoff today as part of Amy's Swell Noel series! So come on over and check it out!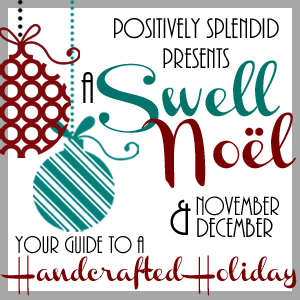 ~~~~~~~~~~~~~~~~~~~~~~~~~~~~~~~~~~~~~~~~~~~~~~~~~~~~~~~~~~~~~~~~
In other news – you just have a couple of days left to enter all the Black Friday Giveaways!
You have about a day and a half left to get those entries in – I'll be announcing all the winners on Saturday morning! Click the graphic to go to the page with links to all the giveaways.
And keep these awesome shops and companies in mind for Christmas presents!! I know I'd love to find a little clutch or a roll of fabric or a can of spray paint under the tree. ;)
Happy Entering!
~~~~~~~~~~~~~~~~~~~~~~~~~~~~~~~~~~~~~~~~~~~~~~~~~~~~~~~~~~~~~~~~
I'll be back this afternoon with the Crush of the Week post – it's going up early because I have a super fun treat for you (literally) tomorrow morning! I can't wait!! So you'll be seeing a lot of me around here this weekend. ;)