Hi Everyone!!
My turn to host Pinterest Feature Friday. And Wow! I had so much fun writing this one up – you are going to love these!!
Today we are featuring the fabulous Kimberly Congdon from Scrap It Girl!
Kimberly has 106 boards and 4055 pins!
Kimberly  has some super creative boards – check them out!
Her board titled Ladders, Stools, Crates, and Mantels has a ton of rustic inspiration!
And I love all the fun vintage clocks on her What Time Is It? board!
She also has a whole Pretty in Pink board that I am extremely fond of.
Her Suitcases and Windows board is so fabulous!! I will definitely be on the lookout for some vintage suitcases from now on!
Let's check out some individual pins!!
Make sure to click through and Pin from Kimberly's boards or the original source!!
These Paint Dipped Bud vases are on my to-do list too!! Love that color.
Source: Whipperberry via Kimberly on Pinterest
Wow – check out this fabulous card catalog in front of the gorgeous Herringbone wall? How fun is this??
Source: Jilly and Mia via Kimberly on Pinterest
Kimberly has a whole Aprons and Bags board (of course) and I am really loving this cutie made from a vintage feed sack.
Source: Cherished Vintage via Kimberly on Pinterest
How darling are these thread spools??
Source: She Dreams Big via Kimberly on Pinterest
This I-Spy bottle would be a perfect summer activity!
Source: Meet the Dubiens via Kimberly on Pinterest
I could really just spend hours on her boards!
Thanks for all the inspiration!
Grab a button Kimberly!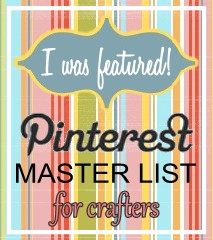 We would love to have you! And, who knows, maybe you will be our next feature!