Malia is here with this week's Pinterest Feature!!
Well… Hello There! Malia here with your weekly eye candy from The Pinterest Party.
Each week, Michele from The Scrap Shoppe, Beverly from Flamingo Toes, an exciting guest hostess or myself– get the opportunity to bring you some beautiful Pinterest boards from one of our partiers.

This week, I'd like you to meet Pinterest Partier #1345… Erin from A Bird and a Bean!
Erin is the proud pinner of 63 boards and 2381 pins.
Check out Erin's Food on a Stick Board… 26 pins and over 1500 followers. Which proves my theory that we ALL love food on a stick.
And her Food Board has 174 delicious pins.

OK I'll step away from the food now. Erin's Clever Organization Board has 61 neat and tidy pins.
Time to get up close and personal with some of these awesome pins!
Just in time for Teacher Appreciation Week… Erin's got a Teacher Gift Idea Board going.
How cute is this little Owl Bag?
Pinned by erin @ a bird and a bean via Susan Hahaj via to-be-charmed.com
AND… are you a lamp lurker like me? Well, Miss Erin has a Lamp ReDo Idea Board!
Pinned by erin @ a bird and a bean via Jessica Ballman via colorissue.blogspot.com
There are some lovely gems on Erin's DIY I Want to Try Board. Like How "Make" Mercury Glass:
Pinned by erin @ a bird and a bean via Niki Roark via katiesrosecottageblog.com
And these Shrinky Dink Bracelets with a LACE pattern!
Pinned by erin @ a bird and a bean via Vanessa Williamson via nonesuchthings.com
 And there is all kinds of free goodness on Erin's Printables Board.

Pinned  erin @ a bird and a bean by via graphicsfairy.blogspot.com. And I'm in a "state" over these states printables!

Pinned by erin @ a bird and a bean via Camille Wilson via qadesigns.blogspot.com
Thanks for making such fabulous boards Erin. Please help yourself to a featured button!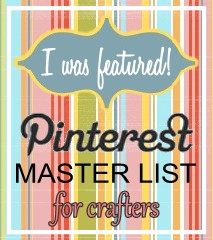 We would love to have you! And, who knows, maybe you will be our next feature!
Thanks Malia!!!