Hi everyone, I am excited to be here. I LOVE pinterest!! Don't you?
Let me take a quick moment and introduce myself.
My name is Connie and I blog at Measured by the Heart. Measured by the Heart is a DIY blog.
I have tutorials for your home, recipes, hair styles, crafts and book club. I love meeting new people and hope you will stop by!
Today I'd like to feature the boards of Paula Tooke.
Her picture got me. I mean come on doesn't she look so nice. And that baby…adorable!!
Paula has 30 boards with 989 pins.
Immediately I noticed her crochet boards. I love to crochet and it seems a little bit of a lost art. At least it can be hard to find updated patterns. So of course I had to follow along with her many crochet boards. Including her board just for Baby booties and shoes.
How adorable are those?
I'm also loving her DIY odds and ends board.
Some individual pins that caught my eye are:
These are marble necklaces from Crafster.
Did you know you could bake marbles and they turn out like this?
Make your own scented plugins from Holy Crickey.
Create your own font from Your Fonts.
Oh pinterest, how I love thee.
A big thanks to Michele, Beverly and Malia for having me! Now I've got to go make a font from my hand writing.
Connect with me:
~.~.~.~.~.~.~.~.~.~.~.~.~.~.~.~.~.~.~.~.~.~
Thanks so much for guesting posting for us, Connie!
You found a great pinner to feature. I can't wait to check out her boards!
Paula, please feel free to grab a featured button!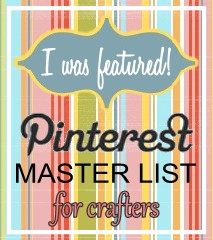 Have you joined the Pinterest Master List yet?
Who knows, maybe you'll be our next feature!