Hello Hello!
Malia here with your weekly fix of Pinterest goodness.
As we all know (too well!) there is always so many PINTEResting boards to get lost in… but this holiday season means there is a fabulous focus– Christmas!
Well, this Pinterest Master List Member… Susan Hahaj, has 50 boards and 11045 pins!
Susan clearly has the spirit of the season.
Her Christmas Crafts and Decorations Board has 816 pins!
We GOTTA take a closer look at some of these pins!
This is a great idea: Paperbag Advent Calendar pinned by Susan via Most Lovely Things.
I have never seen anything like this cute Snowman Cake pinned by Susan via Good Housekeeping.
Another way to use those versatile glass jars: Wonderland in a Glass Jar pinned by Susan via Wendy. Rago
This is a fun one: Sock Vase Centerpiece pinned by Susan via Hostess with the Mostess
I am in love with this Christmas Tree Wire Ornament Holder pinned by Susan via BHG.
Your holiday party would be a hit with this Reindeer Appetizer pinned by Susan from Cute Food for Kids.
These art sets the mood for the room: Go Big or Go Home Christmas Art pinned by Susan via Landee See Landee Do.
Pretty pretty pretty… Handmade Christmas Trees pinned by Susan via Shauna Mailloux
Wow I wish I thought of this! Sweet Gumball Machine pinned by Susan via Sweet Eye Candy Creations.
Thanks so much for linking up to the Pinterest party, Susan!
Be sure to grab a featured button.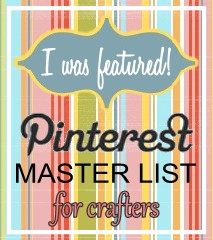 Have you joined the Pinterest Master List yet? Who knows, maybe you'll be our next feature!