Hi all!!
Bev here with this week's Pinterest Feature!
Today we're featuring the fabulous Alisha from Crafty Brooklyn Army Wife!
Alisha has 44 boards and 4471 fun pins! Shall we take a look?
With a blog titled "Crafty Brooklyn Army Wife" it's not surprise to find Alisha has such a great Patriotic Board!
You also had to know I'd get all caught up in the Sewing Board! With 931 Pins – there is a LOT of inspiration to look through.
She also has a really great Photography/Photoshop Board. I have repinned a lot of this to look through – it looks like a lot of information!
Now let's browse through some pins!
How gorgeous are these Opaque Vases?? I think they'd look really cool for Halloween in Black and White too!
This is such a cute idea for using up those leftover bits of wrapping paper – make your own tape!

Pinned by Alisha from Country Living
Check out the ruffle detail on this little pouch!! Isn't that pop of color so cute?

Pinned by Alisha from Marci Girl Designs
These Flavored Waters look so good – and pretty too!!

Pinned by Alisha from The Yummy Life
How cute is this Sewing Room Printable? I love the chevron background.

Pinned by Alisha from Compulsive Craftiness
I am so in love with this footboard turned message center!

Pinned by Alisha from Centsational Girl
You'll have to click over to the source to check out what these darling little planters used to be!
Also, why is everything cute with little feet on it??

Pinned by Alisha from Second Chances by Susan
Thanks so much for linking up to the Pinterest Master list Alisha!!
Make sure you grab a featured button!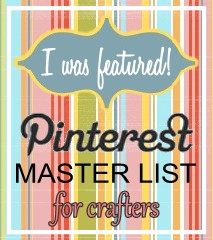 Have you joined the Pinterest Master List yet?
We would love to have you! And, who knows, maybe you will be our next feature