Hello, friends!
Michele here with another installment of Pinterest Feature Friday!
Today's feature hails from Sweden and has an astounding number of pins.


Meet Bettina from Min Lilla Blogg!
Bettina has a whopping 5400 pins on 49 boards.
Is that a record? An awesome record!
Let's take a look at a few of those 49 boards!
If you know me, you know I'm instantly drawn to any board about Wreaths.
And Bettina has 18 lovely finds here!

There are an amazing 225 pins in this Mini Albums board!
I could get lost in here. I love to make mini albums!
Speaking of getting lost…
I would love to get lost in one of the fabulous places in this Favorite Places & Spaces board!
You will be stunned and amazed by the 61 pins in Bettina's Cake board.
These cakes are simply gorgeous!
Like color?
You'll love this Rainbow board!
If the Rainbow board is too much for you,
Bettina has conveniently sorted several boards into colors.
I was immediately draw to this White board!
Now for my favorite part… Let's see some pins!
The bright buttons against the dark background on this art piece really pop!

Pinned by Bettina from Monica Furlow on Fine Art America
I don't know what it is about vintage cameras, but I love the look of them.
These envelope reminders would be so cute for mailing out photos!

Pinned by Bettina from TinyBazaar
Yet another way of making ric rac flowers!! Fun!

Pinned by Bettina from Just Lilla
I love all the things you can make from paper.
And here's 253 templates for DIY displays made from paper!

Pinned by Bettina from Diego Mattei
A gorgeous winter scene in Sweden.
Swoon!

Pinned by Bettina from Helena Normark on Flickr
This altered bottle is a serious piece of art.

Pinned by Bettina from Ingvild Bolme
The simplicity of this photo speaks to me.
I love the vintage label paired with the color of these gorgeous roses!


Pinned by Bettina from Naoto the Obscure on Flickr
These little birds-in-a-jar are simply too cute for words.
Seriously.
Too.Cute.For.Words.


Pinned by Bettina from House of Humble
Thank you so much Bettina for sharing your Pinterest boards with us!
You have some true inspiration here.
Please be sure to grab a featured button!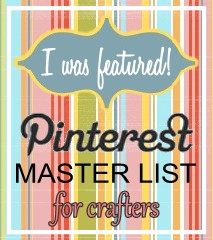 Have you joined the Pinterest Master List yet?
We would love to have you! And, who knows, maybe you will be our next feature…