Hi all – it's my turn for Pinterest Feature Friday!
We have a fun feature this week (ok, every week is fun!) – it's Chelsea from two twenty one!
Chelsea has 70 boards and 3896 pins. Let's take a look at some of them!!
Check out this gorgeous Tablescapes Board! There are so many fabulous party table ideas here!
She also has a whole board dedicated to Chevron awesomeness!! I see several projects here I'd like to do!
And oooh – she has a Fabric Board!! This is a great way to keep track of favorite fabrics!
Let's look a little closer and check out some pins!
Aren't these tissue and tulle flowers so pretty?! I think these would be so pretty for party decorations or to decorate gifts!

Pinned by Chelsea from Greedy for Colour
This Woven Chain Bracelet is gorgeous – and so easy to change up for any outfit!

Pinned by Chelsea from Nest of Posies
These little Ruffled Ice Cream Cones are so stinkin' cute!! I love all these pastel shades.

Pinned by Chelsea from Icing Designs
This Mini Boxy Makeup Bag tutorial is going on my to-do list. I really love the lining fabric too!!

Pinned by Chelsea from Say Yes to Hoboken
Check this one out – it's Chocolate Chip Cookie Dough Devil's Food Cake Cheesecake. Say that three times fast.

Pinned by Chelsea from Sprinkle Bakes
These Color Blocked Coasters are really fun! And super easy too. You could make up a set for every season!

Pinned by Chelsea from Poppy Talk
Thanks for linking up Chelsea!! It was a blast looking through your boards!
Be sure to grab a featured button: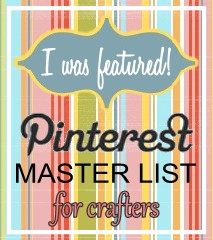 Have you joined the Pinterest Master List yet?
We would love to have you! And, who knows, maybe you will be our next feature!