Hi all – it's my turn for Pinterest Feature Friday!
Today's special Pinterest Feature is the adorable Julia from Stars and Sunshine!
Julia has 54 boards, 2456 pins and 3878 likes! Let's check a few out shall we?
I know these are Julia's boards – but we might also title this section, "A Few of Bev's Favorite Things" because I am seriously in love with all of these!!
Julia has a whole, pretty Embroidery Envy board – lots of fun stitches and projects!!
She also has a darling Bookshelf Love board – full of great ways to display books and cute bookish projects!
Check it out – she has a whole board dedicated to Pretty Pillows!!
Julia is also a Quilt Lover – I especially like that she has some unique creative quilt designs in here.
Let's look a little closer and check out some pins!
How pretty is this Stenciled and Stained Table? This would make such a pretty end table too!
 Pinned by Julia Eigenbrodt from Domestic Imperfection
This Lace Zipper is such a cute detail to add to the back of a t-shirt – and super in-style right now!
 Pinned by Julia Eigenbrodt from Me Sew Crazy
I am putting this on to my To-Do list!! How fun is this DIY Woodgrain rug? The tutorial looks so easy too!
 Pinned by Julia Eigenbrodt from A Beautiful Mess
Pretty sure I need this Lace Flower Clutch!! It is so pretty!
 Pinned by Julia Eigenbrodt from DSMeeBee
And ok – how amazing does this look?! Come to mama little Caramel Apple Cheesecake Dip.
 Pinned by Julia Eigenbrodt from Half Baked Baker
Thank you Julia for linking up!! It was so fun checking out all your pins!
Be sure to grab a featured button: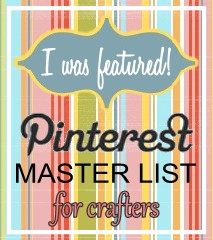 Have you joined the Pinterest Master List yet?
We would love to have you! And, who knows, maybe you will be our next feature!