I might have a small weakness for shoes. Ok. It's a big weakness. Sometimes my budget doesn't agree with that so I have to get creative! I love refashioning shoes and these DIY Pineapple Canvas Shoes are so cute and perfect for summer!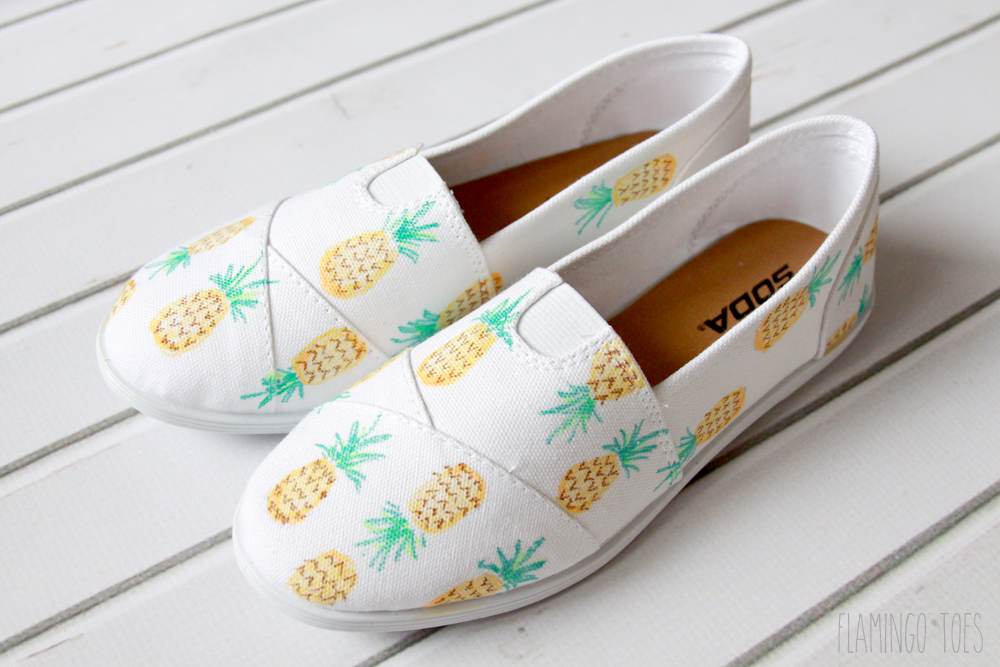 They are super fun and so easy to make! They'd be great to make on a road trip, or a summer get together. You could even have a shoe party and make up some with the kids!
Ready for the easy tutorial? Here's what you need:
Fabric Markers – yellow, orange, brown, med. green and light green
Disappearing ink marker
Start off with some blank canvas shoes. You can find those at almost any store or Amazon. (affiliate link) :)
It's easier to have the design laid out like you like if you draw it out first. Use a disappearing ink marker so the ink will fade and draw out your design on one shoe. Switch up your pineapples so some are up and some are down, and make sure you leave room for the leaves on top.
Start off your pineapples by lightly filling in the main section with yellow.
Add in a little orange along the bottom of the pineapples for a highlight, then draw in the little brown "v" highlights.
Draw in the leaves of the pineapple with the medium green first then highlight with the light green.
Cover the entire shoe with pineapples. :)
For the other shoe, draw out your designs first. Try to keep the designs as similar as possible to the first shoe – so they are mirror images.
Remove any remaining disappearing ink with a damp towel – and then you are all done! Now you've got some super cute shoes to wear this summer!
You could really do this with almost any design – the fabric markers make it so easy! What would you paint on your shoes??