Happy Friday!
I hope you have had a fabulous week and are enjoying some Fall weather!
Let's check out some fabulous features from last week's Think Pink Sunday party!
These little Thanksgiving printables from Michelle at Michelle Lea Designs are so darling. I want the whole set up – the little wooden clip and all. Too perfect!
Um. Kind of dying over the cuteness here! This Crochet Hat with bow from Alexis at Persia Lou is soo sweet! And so is the model of course!
I am so impressed here. Kim from Reposhture Studio turned a basketball rack into this super cool shelf! Doesn't it look like something you'd find at Restoration Hardware??
This Pumpkin Gingerbread Trifle from Parrish at Life with the Crust Off looks amazing! I love trifles, they are such easy, yummy desserts!
Jamie from Scattered Thoughts of a Crafty Mom always has the sweetest tutorials! Take a look at her long sleeve peasant dress pattern, it is perfect for Fall!
This looks so good! Kristi from I Should Be Mopping the Floor has the perfect Thanksgiving drink for you! (there is a cocktail and a non-alcoholic version too!)
Diane from Vintage Zest has a great tutorial for us on how to trace a pattern! This is perfect for all those multi-sized patterns!
I am so in love with these Donut Pumpkins from Rebekah at Somewhere in the Middle! You could make them up for the kid's table at Thanksgiving!!
My family would love these Maple Bacon Pancakes that Lyuba from Will Cook For Smiles linked up! I can't wait to give them a try!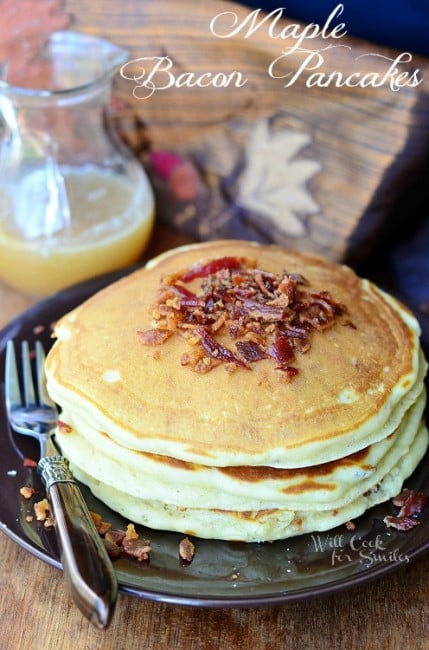 Fabulous features again this week! You guys are so awesome.
If you would like a button you can grab one on the button page!
So today is the first day of my craft show in AZ! I'll try and share some photos on Instagram over the weekend! And I would very much appreciate your prayers and happy thoughts that it all goes great! I'll let you know what happens next week!