It's time for our fabulous features from last week's party!
This Mixed Media Pallet Art from Val at Home Made Modern is so cute and creative! I love that the basket on the bike is 3D!
Love love love these DIY Botanical Mod Podge Pumpkins from Bonnie at Uncommon Designs! They are so simple but so pretty!
I am so excited that with cooler weather comes all sorts of tasty Fall treats! Check out this Quick & Easy Croissant Apple Bread Pudding with Coconut Crisp Topping from Diane at Vintage Zest! Oh so yummy!
Anne from Circus Berry put together this really fun Geometric Rainbow Party! It is so colorful – I love all the little details she did like the glasses and cupcakes and everything!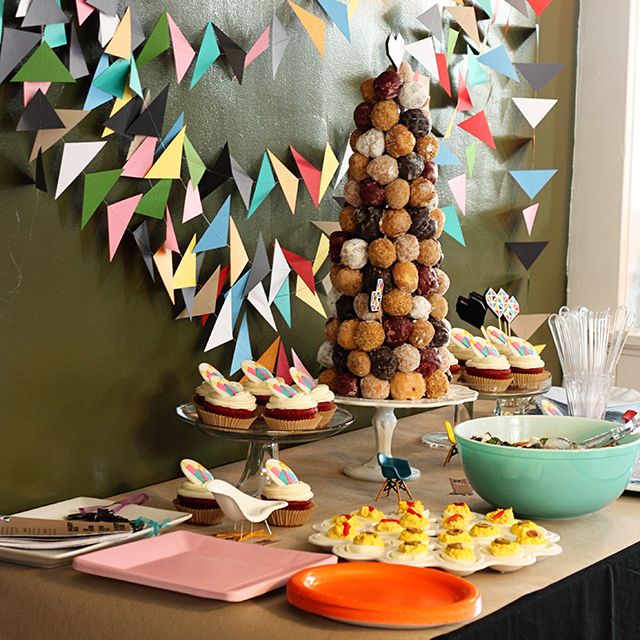 These Burlap and Book Page Pumpkins from Lauren at the Thinking Closet are so cute! They make such a fun little Fall display!
Christine from I Dig Pinterest made up these awesome Trick or Treat Blocks! The dictionary pages give them such a great look.
Ack! These Pumpkin Spice Snickerdoodles from Lori at A Pinch of Glitter look so yummy! I had no idea they made pumpkin spice kisses!
Oooh – take a look at this Wooden Number Wall Art from Hayley at Welcome to the Mouse House! The wood piece itself is so fabulous and I love all the different numbers she used!
Rachel from Maison de Pax has a really detailed tutorial for us on how to do this Wax Resist Side Table Makeover. She has some great painting tips in this post!
More yumminess here! The girls from Tastes of Lizzy T linked up all sorts of apple butter yumminess – I had a hard time deciding what to feature! I ended up picking these Apple Butter Cinnamon Rolls because, well, yum. But make sure you head over and check out the others too!
These Confetti Pumpkins from Kim at Made in a Day are so super fun and sparkly! I love them!
I am really loving all these Fall projects aren't you?
If you were featured and want a button to show off you can find one here!
Before you go – I want to let you know about a giveaway coming up!
Andrea from The Train to Crazy and I are going to have a fabric destash giveaway! We are still working on details, so you if you don't want to miss out, you can fill out this handy form! We'll be sending out info this weekend on the giveaway.
Happy Weekend!!