Happy Friday!!!
Happy Friday on a three day weekend!!! Woohoo! :)
I can't wait to show off the features from this week's Think Pink Sunday!
How could I not feature this fabulous Kate Spade Flamingo Beach Tote knockoff by Donatella at Inspiration & Realisation???
I think she made it just for me!
Well, not literally – but hey.
I love this cute little version of Ballard Spool Table by Jennifer at Life, Crafts, and Whatever!
It's just under 7″ tall. Adorable!!
Need a Father's Day idea? This great "Dad" frame by Chad & Mary Beth at Nothing But Country is perfect!
(Check out their blog while you're there – they linked up some great projects this week!!)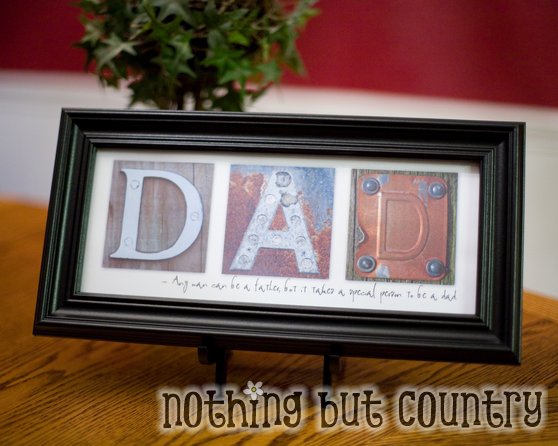 Alison from Oopsey Daisy had a Monster Play Date – you have to check it out! Seriously amazing.
She made monster crafts, monster pizzas and of course, monster cupcakes!
Have I been living under a rock? I had no idea they sold empty Push Pops.
Well, Sheryl from Lady Behind the Curtains did – and she came up with these Fabulous Mini Firework Cupcakes!!!
I'm sharing the Most Clicked Link today – because at Think Pink Sundays this weekend we have a fun giveaway!!
So that link was the Upcycled Shirt to Dress from Rae Gun Ramblings!!
If you are featured and would like a button – they're on the sidebar!
And here are My Highlights of the Week!!
Favorite Dessert of the Week – I kind of feel like I'm all about the food here. I'm not. Well. Mostly.
We tried out Holly from 504 Main's Tres Leches Cake this week and can I just say – um – addicting. This is a seriously yummy cake.
Favorite Blog Moment of the Week – I was featured this week by Kim at  Today's Creative Blog – which is like a winning an blog Emmy or something. A Blemmy.
I am so excited to be featured – and all your sweet comments made me so happy!!!
Weird Searches on the Blog – I am starting to get a complex. I think I must say weird things all the time!!
This week we had "Women Juggling Hats" (huh?) and "When Chicken Have Teeth French".
Most Irritating Moment of the Week – Have you seen the Esurance Commecial – Online Dating?? 
Here's the link to check it out. The guy at the end says he's a DJ – and he makes this little noise – like beat boxing.
Yeah. My son has picked up on this. And he makes this noise ALL. THE. TIME.
During homework. Playing video games. Taking out the trash. He doesn't even realize it anymore. But I sure do.
Ok – enough about me! Did you have a good week? I want to hear about it!
Make sure you come back tomorrow night for Think Pink Sundays – we have a great giveaway starting as well as all the amazing links!