Yay!! It's time for the Crush of the Week post – and it's Fridaaayyyyyy!
Woo and two hoo's!
Well – I am seriously in love with this little 3 Tiered Tray by Melissa at Daisy Mae Belle!! It's all industrial and awesome!
I need it. For cookies and other assorted treats.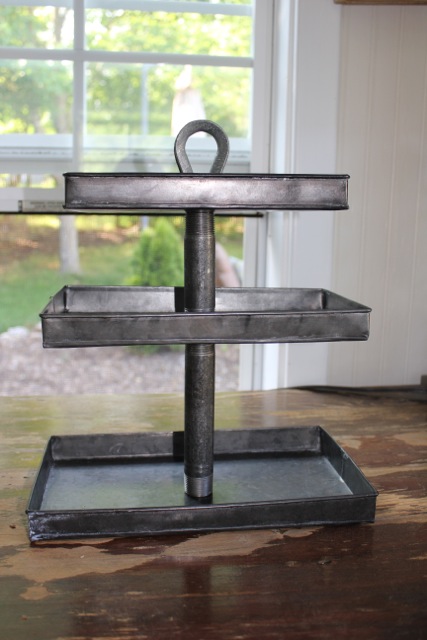 I'm all about the organization this week – so I'm running with it before the feeling wears off.
I think this little Embroidery Floss organizer idea from Sarah at Renewed Upon a Dream is so pretty!
And I don't know about you – but I'm much more likely to keep things tidy if they are cute!
Um – hi genius idea! Laura Beth from A Step in the Journey linked up her DIY Baker's Twine tutorial! Let me tell you – this is crazy easy and so fun! And yes, I already have enough baker's twine to create matching end tables out of twine (hi Anthro, great idea huh?) – but I still want to try this!
This is just plan fabulous. Ann from Make the Best of Things waved her magic wand and turned two nightstands into a new kitchen island!
And you have to go look at the other photos – the top is old pages from a Betty Crocker Cookbook! So stinking awesome!!
Good Gracious – we have S'mores Cupcakes from Katie at Little Beckie Homecky next!! Look at those toasty marshmallow tops!
Nummy.
Yay! If you were featured and would like a button – they are here! Grab one and show it off!
Highlights of the Week:
Getting my organizing on . . .
If you like the FT Facebook page – you probably saw that I was able to get some cleaning of my craft closet done! Whew!!
I'm not sure how long it will last – but it's fun just kind of looking in there and admiring all those pretty fabrics!!
On a related note . . .  now that Instagram is available to us Android users . . . I am so loving it!!
Are you there? It's so fun to be able to see what everyone is doing during the day, eating for lunch, shopping for, creating – and more!
(I'm @flamingotoes if you want to follow along!!)
Weird Searches  – are you ready?
•    First up – we had someone searching for "raw bracelet pattern". Is that kind of like Lady Gaga's meat dress? Cause that's not going to happen. Now a cooked bacon bracelet . . . . well.
•    We also had someone land here with the search "how do you make a flamingo angry". This is highly discouraged. But if you're going to do it, I would say that shooting a Nerf dart at her Every Time she walks in the room could work. Maybe. Probably.
•    Last up we had someone searching for something "baskety". This person I like. She has obviously been to Craft English 101 – and is probably also familiar with terms like "ruffley" and " rustic-y".
I think we need to start up our own dictionary.
Okey dokie – have a fabulous weekend!!