Happy Friday!
It's time to check out all the fabulous features from last week's Think Pink party!
Remember – click over to the featured blogs and pin from there! :)
Take a look at this pretty Ruffles and Roses Pillow from the girls at Woven Home. It's so classic and sweet!
Rebecca from My Girlish Whims linked up these darling Chain Tassel earrings! They are so cute and she has a great tutorial!
Oh my goodness – take a look at this!! Chocolate Bundles with Ganache from Mari at Inspired by Family Magazine.
They don't look very hard either – yum!!!
How sweet is this little Smitten Lovebirds Dress by Cheryl at Sew Can Do? Wouldn't it make a great Easter dress?
I love the look of this Branch Coat Rack by Garden Therapy! The painted white branches look rustic and chic all at the same time.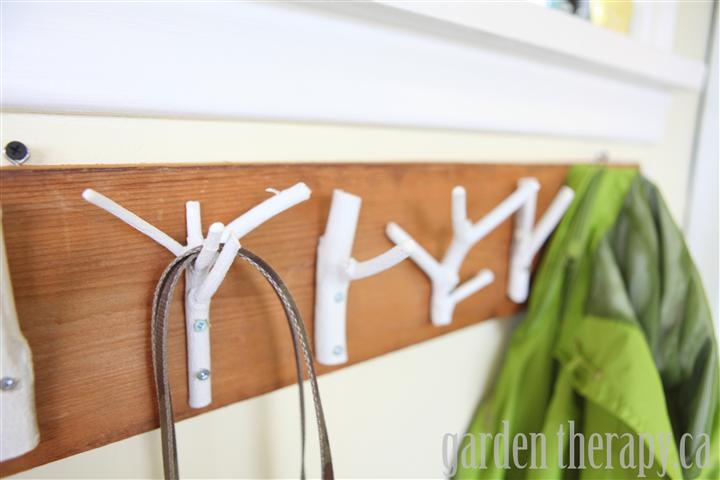 How sweet is this little Le Pouf Pincushion from Michele at The Scrap Shoppe? It's so scrappy and lacey and adorable!
Check out these pretty Ruffled Chiffon Flowers from Julie at Vibrant Designs – aren't they gorgeous? She has a great tutorial – so you can make up a bunch and stick them on everything!
Lots of projects to add to my to-do list!!!
If you were featured and would like a button, they live on this page. Grab one and show it off!
Ready for some Highlights? Me too!
New category – Injury of the week. (Last week we had head injury of the week but that was too specific. So I had to broaden the category.)
You guys know by know I'm not the most graceful thing – and if you follow on FB you know that I semi-sewed through my middle finger this week. Good times.
Though I did enjoy showing it off to everyone. Just kidding. Mostly. ;)
Cutest Shoes Ever – I may or may not have a thing for shoes. Ok. I do. I even started a shoe pinboard. It's a sickness. I am now the proud owner of a pair of shoes that I have coveted for quite a while. And I have to say that they are as adorable in person as they are on line. I foresee us having a long and happy relationship. Want to see?
Seriously? To. Die. For. They're all Mary-Poppins-lace-up-oxford adorable. I big puffy heart love them. (That's a lot)
Weird Searches –
This week we had someone searching for "paint toes pillow". That sounds really lovely. I've always wanted a pillow with toes on it. Only if they are painted though. Unpainted toes pillows would be so tacky.
We also had someone land here with the search, "feeling lucky". Feeling vague? Let's see – that could open up anything from Dirty Harry to casinos and Fluffy Favourties online slots to online . . . . other things. Let's be more specific people, hmmmm?
Last up – someone is searching for "seen me posters". Here's the deal. If you're lost, usually you're not the one putting up the posters. It kind of defeats the purpose. "Have you seen me?" "Yes. I saw you putting up the poster. Yay. I found you."
Ok – that wraps us up!!
Come back this weekend for Think Pink Sundays and link up all your awesomeness!