Happy Friday!
It's time for the fabulous features from last week's party!
I am soooo blown away by the awesomeness that is this DIY Backyard Kitchen Herb Garden from Laura at Finding Home Online! I mean the plates, the buckets, the cute little herbs – it is so amazing. You have to click over – this beauty is two-sided!
Um. This Shopping Bag turned Teen Wall Décor from Carolyn at Homework is genius. I never would have thought of making this – and it's soooo cool!
Susan from Sugar Beans shared her darling new Moose Hoop Art! I love the fabric combos she did here – and on vintage sheets too! LOVE.
I love the look of this DIY Shelving Unit that Tanya from twelveOeight made for her laundry room! It's a great way to dress up regular shelving!
I'm fairly certain that I will be making this Fresh Blueberry Pie from Heidi at Handmade Frenzy soon! It looks super yummy! Also, all desserts should have little sugary stars made from pie crust.
This Ikea Hack of the Fjell Wardrobe from Lauren at The Thinking Closet is so cool! I love the whitewashed look they did with it!
Marty from Marty's Musings did an amazing job converting her tiny bathroom into such a cool space! I'm dying over that fab sink!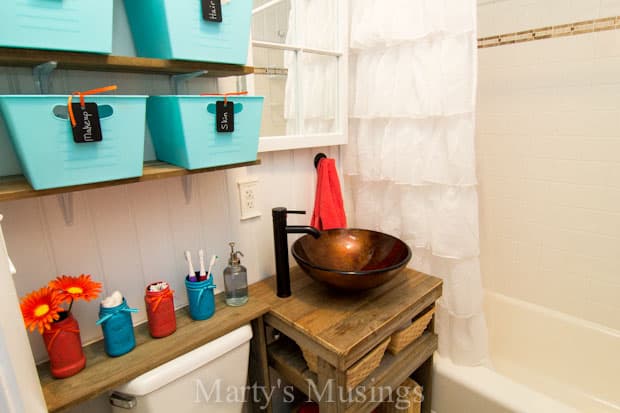 You guys are awesome! If you were featured and want to show off a button, you can snag one here!
Ready for some Weird Searches?! Me too!
(These are searches that people typed into Google or whatever, and landed here. And we make fun of them. All in a friendly-like fashion.)
So first up we had someone not so much searching as making a demand. They typed "i must have flowers always and always". Which is a little pushy in any relationship, but particularly when you're romancing the internet. Now, if we were talking about ice cream, that would be a different story entirely. Completely reasonable.
We also had someone searching for "hair for a person playing a flamingo". Um. um. Is someone in an Alice in Wonderland play at a hair restoration resort?
I also enjoyed, "necklace with animals what is". Apparently Yoda is looking for new jewelry. Make you a cool necklace, I will.
Have a great weekend!