Happy Friday!
A little business to take care of before we start crushing. . .
This week there was a SECRET Facebook Friend giveaway!
Yep – I'm sly.
The winner can choose either a set of earrings or any witchy dishtowel in the FT Etsy Shop!!
And the lucky winner of the giveaway is . . . .
Who Is . .
You get to pick Michele!
 I'll send you an email and we'll work everything out.
And if you haven't "liked" the FT Facebook page – maybe you should! You never know what will happen there. ;)
On to the Crush!
Today's Crush is featuring some sweet gals who have made projects from Flamingo Toes Tutorials!
I want to show off what a great job they did.
First up is Megan from Fowl Single File.
Megan made the sweetest Bicycle Pouch and added the Bicycle Embroidery Pattern from here.
I LOVE this! The colors that she used are perfect!
Click here to see more pictures and the super cute lining she used.
Megan has also made some of the cutest aprons for little girls I've ever seen. I'm a sucker for a cute apron.
Next we have Ingrid, who I adore.
Ingrid is like my very own tutorial tester. Have I mentioned that I love her???
She made her own version of the Beware! Semi-Scary Wreath.
I love the Boo and her sparkly Crow.
Ingrid has also added some necklaces to the Flickr Group!
And my last feature is from the Flickr Group . . .
 Anairy Gray made this super cute necklace form the Potentilla Bib Tutorial. I really like the dark gray!!
I've you've made something from a Flamingo Toes tutorial – send me a picture, I'd love to feature you!!
Update:
Because I"m a compulsive Contest Enterer – I'm throwing myself in the ring of Sew Dang Cute's new Contest: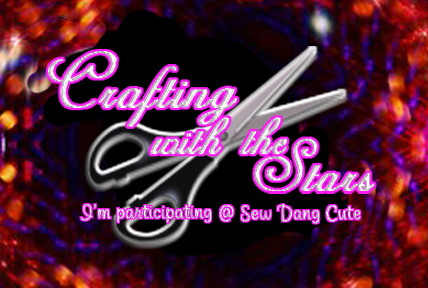 I entered my Semi-Scary Wreath. Check the contest out – it looks like a lot of tun.
And check back tomorrow – I have a unique and fun giveaway to share with you.