It's that time again – time for the Crush of the Week!
This week my crush is the super talented Bobbie from A Vision to Remember!
Have you met Bobbie yet? Let me tell you a little about this talented gal. She has some amazing projects on her site and she is so sweet.
Take a look at this darling Ruffle Flower Rag Quilt. Bobbie has created the pattern for this quilt – it is a FREE download! How generous is that??
I love the way she did the flowers on this quilt.
She also has the tutorial for this darling Pleated Headband. I think the pleats are so sweet.
One of my other favorites is this Beaded Pendant.
Isn't this so cute? I love the large bead and the ribbon and cording necklace. Wouldn't it dress up a t-shirt?
You might remember I told you Bobbie is doing is a 30 Day Food Challenge.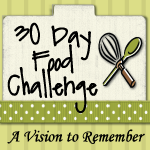 Her challenge to herself and us is to not cook the same thing twice in the month of August. I'm so in. I love the idea of trying new things – getting out of the rut of fixing the same thing for dinner all the time.
To help us out, Bobbie will be posting 3 recipes each day. 3!!! She is posting a dinner or entree recipe, a dessert, app. or drink recipe, and then one of her own recipes! This will be a great month of cooking inspiration. I highly recommend following A Vision to Remember if you're not already so you don't miss out on all the yumminess!
Pop over (ha, no pun intended) to Bobbie's and say hi – check out all the inspiration at A Vision to Remember!